Innan den kommer att stå utställd på mässan i Frankfurt hade Mercedes ikväll en liten uppvisning av Project One - deras hyperbil som ska utmana andra kärror i den här kategorin. För att lyckas med detta har man inte snålat och prackat bilen full med F1-hybridteknik vilket har resulterat i över 1 000 hästar och en toppfart på över 350 km/h. 0-200 km/h ska klaras av på under sex sekunder.
Under skalet sitter det en turbomotor och inte mindre än fyra stycken elmotorer. Förbränningsmotorn är en V6:a på 1,6 liter som man har placerat i mitten. Den kommer direkt från Mercedes-AMG Petronas Formel 1-bil och den kan utan problem varva till 11 000 varv. För att den ska palla med gatkörning har man dock valt att begränsa den något, både för driftsäkerhet och för att det inte finns racesoppa på macken. Elmotorerna är utspridda lite överallt. En sitter inne i turbon (!), en annan utanpå förbränningsmotorn och de resterande två på framaxeln. Dessa driver framhjulen medan resten driver bakhjulen via en åttastegad växellåda som kan växlas med paddlar. Man ska kunna köra på enbart el men hur långt framgår inte. I de fyra hörnen sitter givetvis keramiska bromsar.
Project One är än så länge bara ett koncept men den kommer att bli verklighet om inte allt för lång tid. Om de då har ritat om baken så att den inte ser ut som en Lamborghini Aventador längre och gjort fronten mer Mercedes-aktig framgår inte. Mer om vrålåket på länken nedan.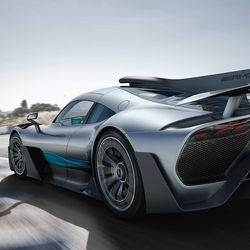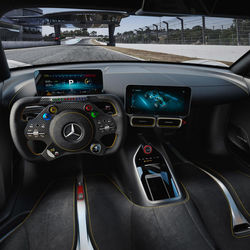 World premiere at the IAA.

The Mercedes-AMG Project ONE will celebrate its world premiere at the International Motor Show (IAA) in Frankfurt/Main: for the first time, the two-seater supersports show car brings the very latest and efficient, fully-fledged Formula 1 hybrid technology from the race track to the road almost par for par to represent the highlight of AMG's 50th anniversary. This high-performance hybrid is said to produce over 1,000 PS and reach top speeds beyond 350 km/h. The show car combines outstanding race track performance and day-to-day suitable Formula 1 hybrid technology with exemplary efficiency. This is a world first.

One turbo engine and four electric motors.

The high-performance plug-in hybrid drive system of the Mercedes-AMG Project ONE comes directly from Formula 1, and was realised in close cooperation with the motorsport experts of Mercedes-AMG High Performance Powertrains in Brixworth. It consists of a highly integrated and intelligently networked unit comprising one hybrid, turbocharged combustion engine with a total of four electric motors. One has been integrated into the turbocharger, another has been installed directly on the combustion engine with a link to the crankcase and the two remaining motors drive the front wheels.

Rear mid-engine with up to 11,000 rpm.

The 1.6-litre V6 hybrid petrol engine with direct injection and electrically assisted single turbocharging comes directly from the Mercedes-AMG Petronas Formula 1 racing car. To achieve high engine speeds, the mechanical valve springs have been replaced by pneumatic valve springs. The vehicle is mid-engined (ahead of the rear axle) and it can easily reach speeds of 11,000 rpm, which is currently unique for a roadgoing vehicle. However, for higher longevity and the use of commercially available Super Plus petrol instead of racing fuel, it remains significantly below the F1 engine speed limit.

Driving Performance of the future.

Ever since the early days of motorsport, engineers have dreamed of bringing motor racing technology to the road. Mercedes-AMG is now making this dream a reality at the very highest level. "Motorsport is not an end in itself for us. Faced with intense competition, we develop technologies from which our production vehicles also subsequently benefit. We are drawing on our experiences and successes from three constructors' and drivers' world championships to bring Formula 1 technology to the road for the first time: in Mercedes-AMG Project ONE", says Dr Dieter Zetsche, Chairman of the Board of Management of Daimler AG and Head of Mercedes-Benz Cars.

The concept car gives specific indications of what to expect from the upcoming production model. "The hypercar is the most ambitious project we have every undertaken. It marks yet another pinnacle of the successful, strategic development of Mercedes-AMG towards a performance and sports car brand. Project ONE raises the bar in terms of what is currently technologically feasible and thanks to its combination of efficiency and performance it represents an absolute benchmark. At the same time, Project ONE provides an outlook on how AMG will define driving performance in the future", Tobias Moers explains as the Head of Management at Mercedes-AMG GmbH.

Rev wonders on the front axle.

The electric motors on the front axle are also true rev wonders, with rotor revolutions up to 50,000 rpm – current state of the art is a speed of 20,000 rpm. The very high-revving engine is additionally boosted by a high-tech turbocharger. The exhaust gas and compressor turbines are separated from one another and located at an optimum position to the exhaust side and to the intake side of the V6 engine, and connected to one another by a shaft. This shaft features an electric motor with approximately 90 kW which, depending on the operating status, electrically drives the compressor turbine with up to 100,000 rpm – for instance when moving off or following load changes. The Formula 1 designation for this unit is MGU-H (Motor Generator Unit Heat).

Responds faster than a naturally aspirated V8 engine.

The major advantage: the dreaded turbo lag – the delayed response to accelerator pedal commands owing to the inertia of the large charger – is completely eliminated. The response time is greatly reduced, and is even shorter than that of a naturally aspirated V8 engine. The electric turbocharger brings about another advantage: it uses parts of the surplus energy from the exhaust system to generate electricity, and either stores it in the high-voltage lithium-ion battery as part of recuperation or provides additional drive power by feeding it to an additional electric motor. This motor produces 120 kW, has been installed directly on the engine and features a link to the crankshaft via a spur gear (MGU-K = Motor Generator Unit Kinetic) – another technology that ensures maximum efficiency and performance in Formula 1.

Fully electrically driven front axle.

The thermal efficiency of the combustion engine with electric turbocharger (MGU-H) in conjunction with the electric motor on the crankshaft (MGU-K) will be over 40 percent. This is a previously unattained peak value for series production vehicles. There will also be two further 120 kW electric motors at the front axle.

Each is connected to a front wheel via a reduction gear. The fully electrically driven front axle allows individual acceleration and braking of each front wheel, and therefore selective torque distribution for particularly high levels of vehicle dynamics.

Impressive acceleration figures.

The driver can move off purely electrically, initially with just the electric motors on the front axle driving the hypercar and the electric motor on the crankshaft supporting short-term acceleration wishes. If the driver presses the accelerator more firmly and demands more output, the V6 engine also switches on. The drive system unfolds its full power as the engine speed increases. Impressive acceleration figures are possible with the Race Start function: acceleration from zero to 200 km/h takes under six seconds. If the driver's foot leaves the accelerator again to let the car coast, the system switches to electric drive at the front axle – whilst braking under normal driving conditions recuperates up to 80 percent of the energy, which is fed into the battery.

Automated 8-speed manual transmission.

Power is transferred to the rear wheels by an 8-speed manual transmission that has been entirely developed from scratch for the Mercedes-AMG Project ONE. It is activated hydraulically and can be operated in automated mode or manually using the shift paddles. The car is equipped with an advanced, weight-optimised ceramic high-performance compound braking system. Its low weight reduces the unsprung masses, thus improving driving dynamics and agility.

Innovative pushrod suspension.

Multi-link designs are used at the front and rear. The adjustable coil-over suspension has several special features: Both push-rod spring struts have been installed across the direction of travel. The innovative arrangement of the spring/damper unit replaces the function and application of conventional tubular cross members. The overall setup of the springs and dampers is configured for perfectly balanced, easily controlled and above all sporty handling characteristics. These are also assisted by all-wheel drive and torque vectoring.

Not only an ultimate driving machine.

The Mercedes-AMG Project ONE will not only be an ultimate driving machine that directly brings current Formula 1 hybrid technology onto the road and combines top-class race track performance with full day-to-day suitability. Its purpose is also to obtain extensive findings about performance-oriented plug-in hybrid drive technology, further developments of suspension layouts and extended onboard electronics that will later benefit series production AMG cars.