Nya Opel Astra visas som kombi
Kommer som laddhybrid, men inte som elbil
I somras rullade Opel ut nya Astra som fått ett helt nytt utseende. Nu är det dags för kombi-versionen som man kallar för Sports Tourer att göra entré. I början av september fick vi reda på att Astra kommer att erbjudas som elbil, men detta kommer bara gälla för femdörrarsversionen och inte för kombin som presenteras nu. Men kombin kommer i alla fall som laddhybrid, något som gör den till Opels första elektrifierade kombi.
Under locket kan man även få bensin- och dieselmotorer från 110 till 130 hästar. Till dessa maskiner kopplas antingen en sexpetad manuell låda eller en åttastegad automat. Laddhybriden kommer i två stycken versioner där det starkaste alternativet bjuder på 225 hästar. Till paketet kopplas en elektrisk växellåda. Hur långt dessa tar sig på bara el och andra tekniska detaljer får vi tyvärr inte nu.
Bilen mäter 4,64 meter på längden, 1,86 på bredden och är 1,48 hög. Den är 60 centimeter kortare än föregångaren men ska ändå svälja 608 liter i bagagerummet, 1643 om man fäller baksätet. Insidan får bland annat två stycken skärmar där den ena visar instrumenten och den andra infotainmentsystemet. Det finns även head-up-display och teknik som Android Auto och Apple CarPlay.
När nya Astra Sports Tourer och vad den då kommer att kosta är oklart för tillfället.
Bil, Opel,
Opel Astra Sports Tourer, Astra, Opel Astra, kombi, officiell
Ingen video laddad. Detta kan bero på adblocker.
Försök igen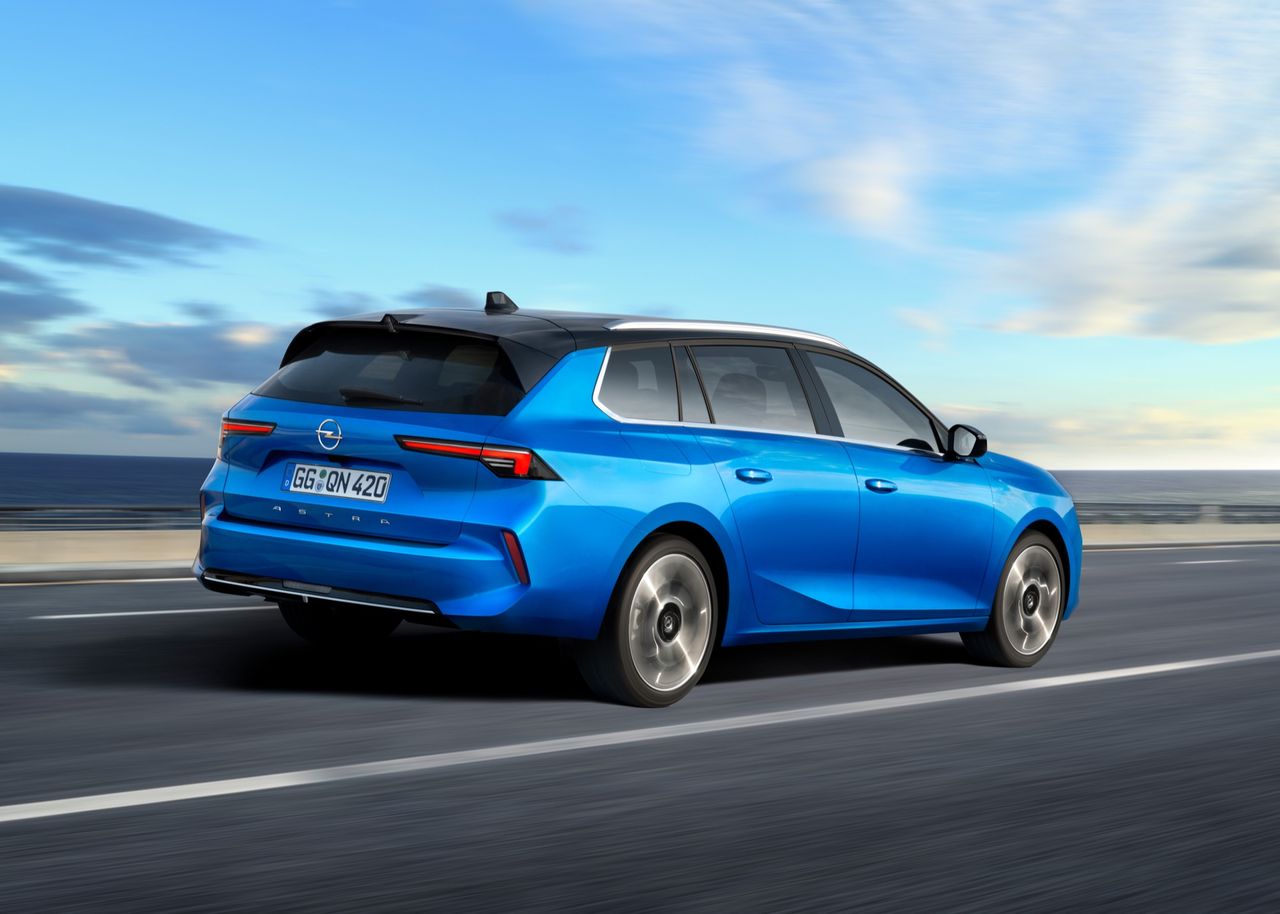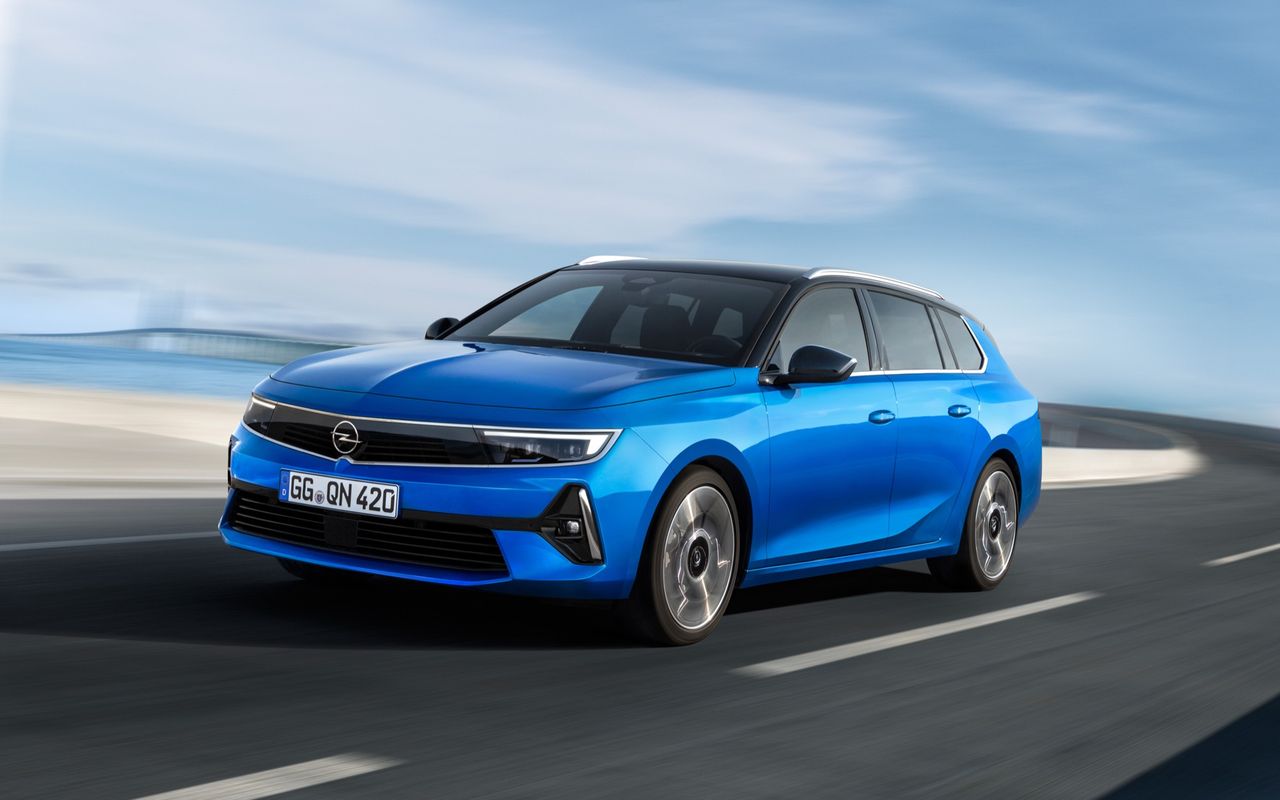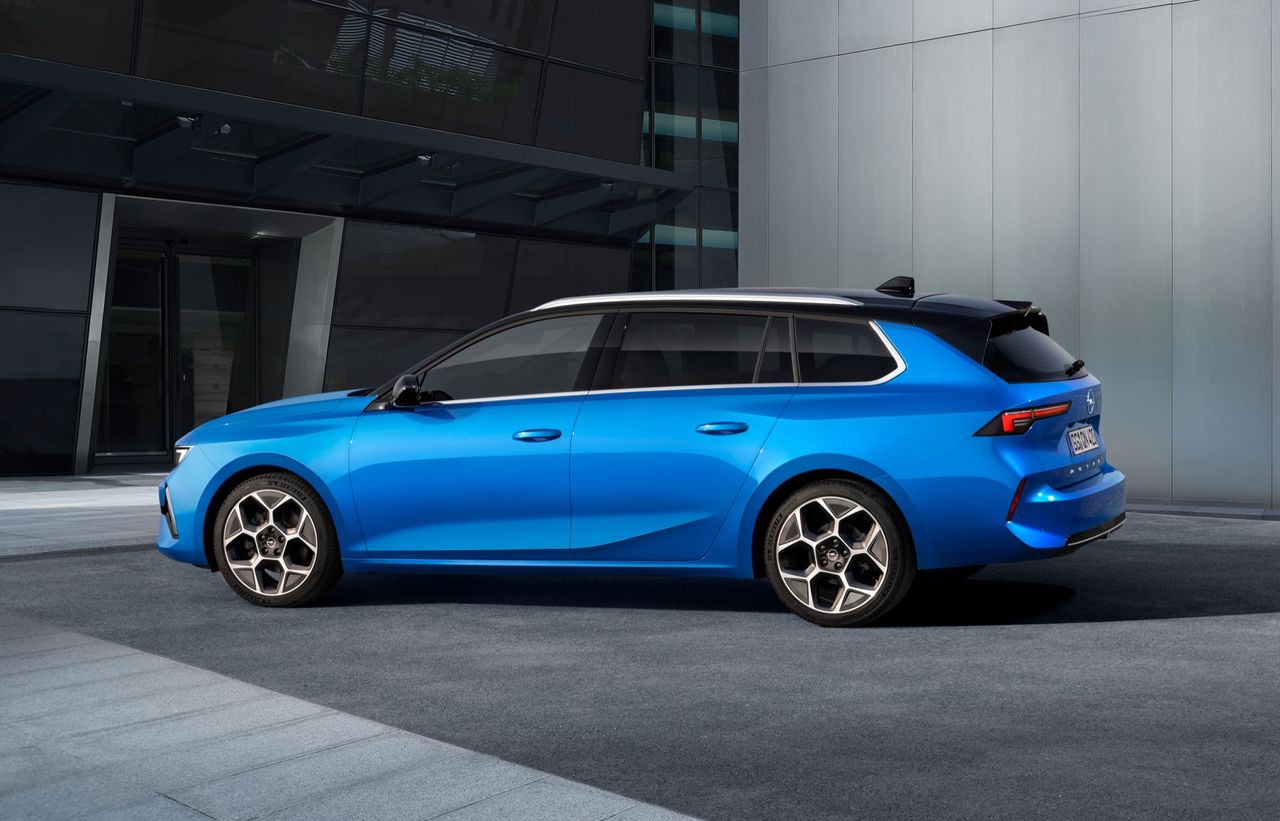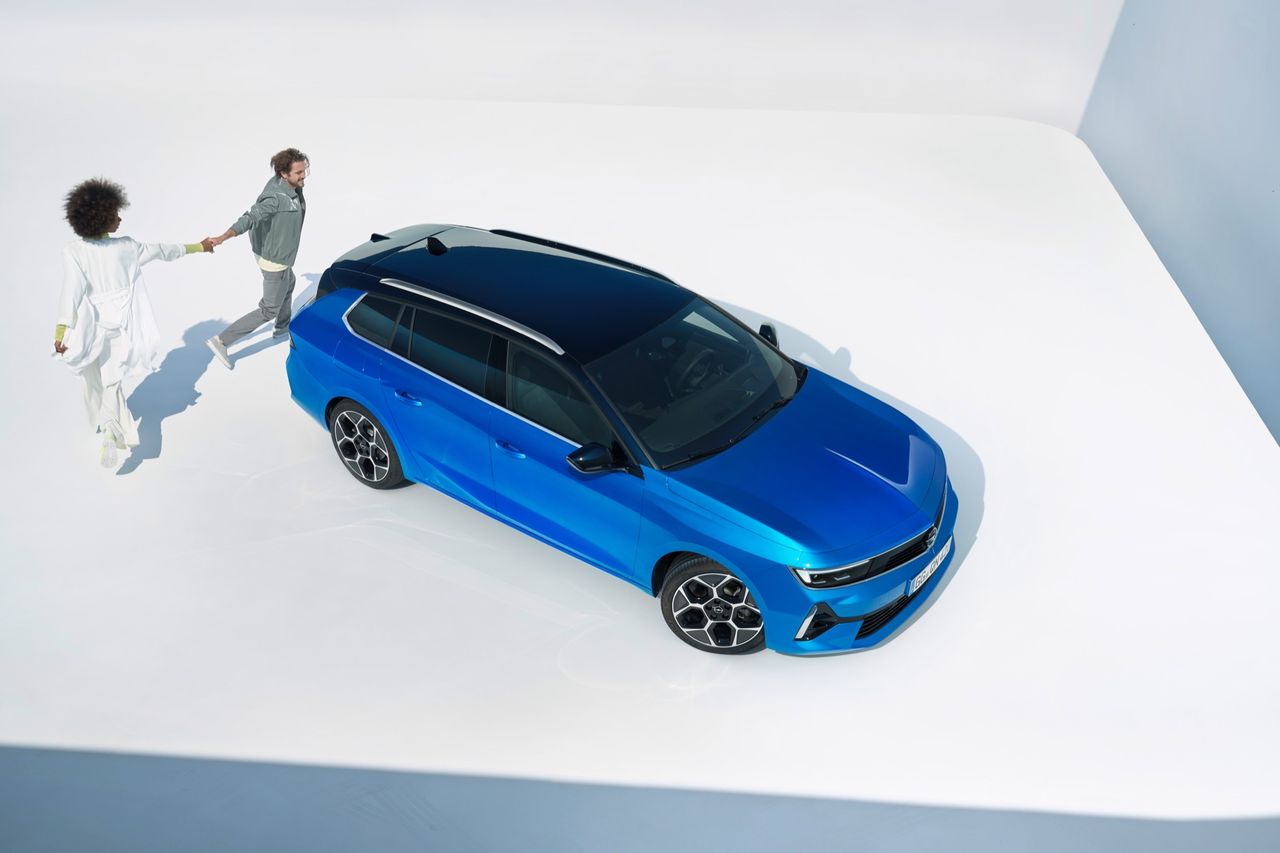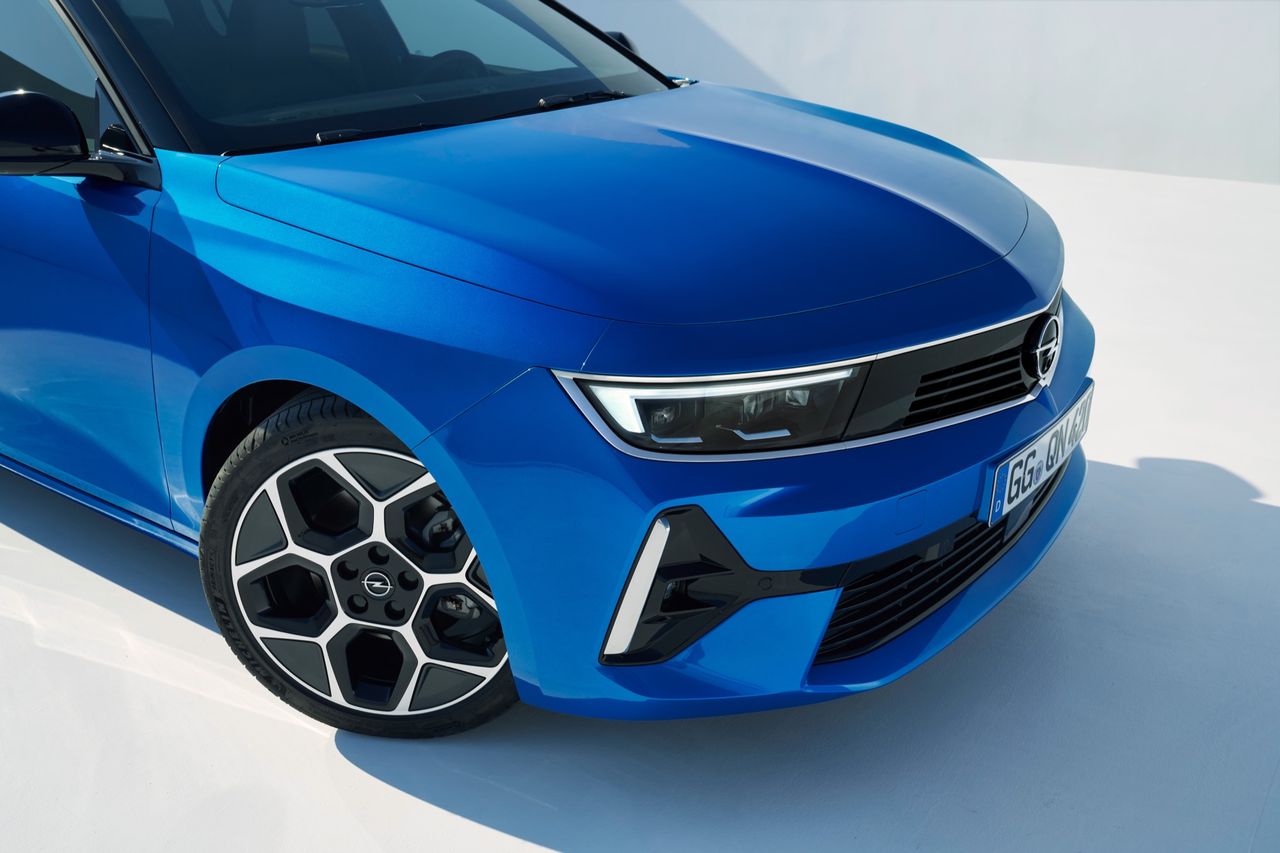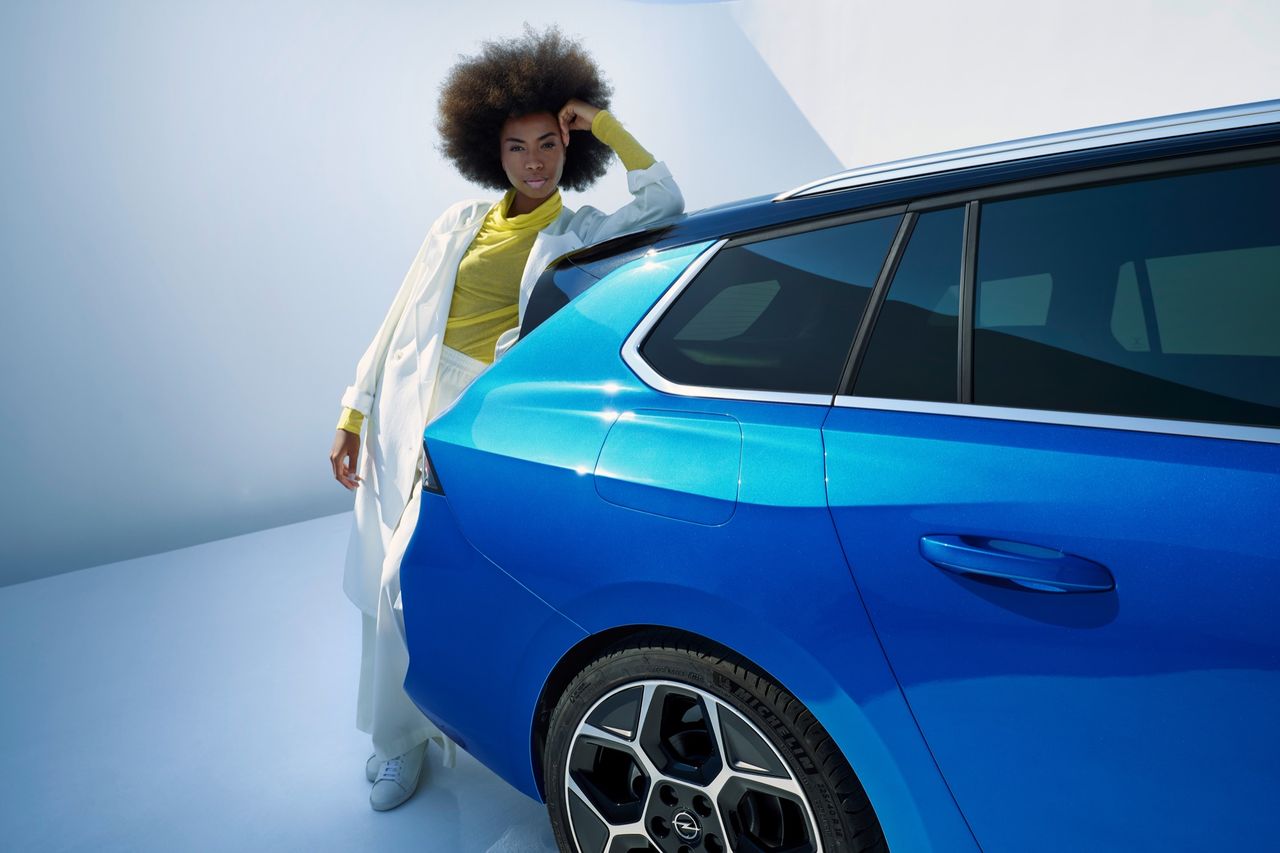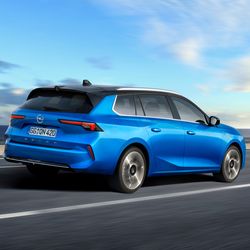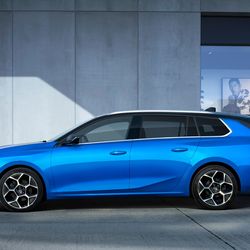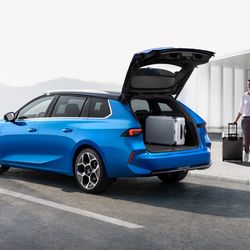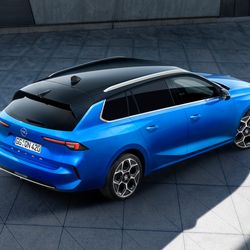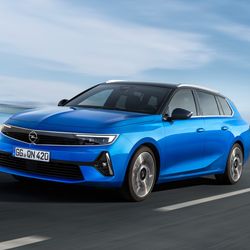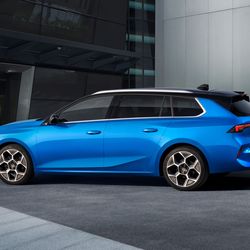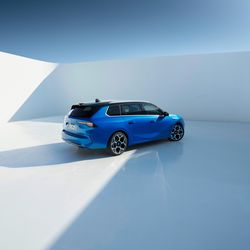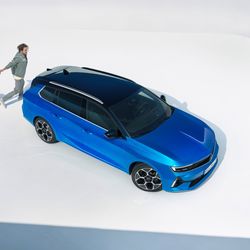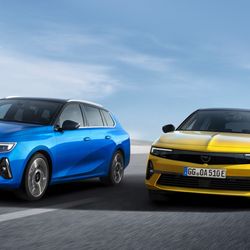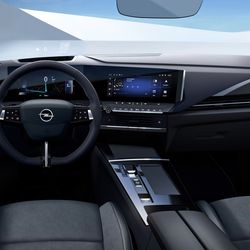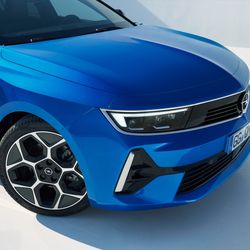 Visa Pressmeddelande
Premiere: First Opel estate to interpret bold and pure design philosophy

Electrified: Sports Tourer available for first time with two levels of hybrid drive
Spacious: Practical boot offers up to more than 1,600 litres of stowage
Clever: "Intelli-Space" moveable floor optimises boot volume
Characteristic: Opel Vizor brand face and Pure Panel digital cockpit
Way ahead: Bringing Intelli-Lux LED® Pixel Light to compact estate class
Simply the best: Ergonomic AGR seats provide optimum comfort and support

Following the world premiere of the next-generation Astra hatchback in September, Opel has today unveiled the eagerly awaited estate model version, the all-new Astra Sports Tourer. The newcomer will be available with two levels of plug-in hybrid electric drive, making it the German carmaker's first electrified estate. The new Astra Sports Tourer also continues Opel's successful tradition of compact estates, which began almost 60 years ago with the Kadett Caravan, the first such car in this class from a German brand.

In addition to electric drive, the new Astra Sports Tourer will be available with highly efficient petrol and diesel engines. Power ranges from 81 kW (110 hp) to 96 kW (130 hp) with the petrol and diesel variants and up to 165 kW (225 hp) system output with the electric plug-in hybrid variants. A six-speed gearbox is standard on the petrol and diesel power units, with an eight-speed automatic transmission (electrified on the plug-in hybrids) optional on the more powerful engines.

"The new Astra Sports Tourer is the all-rounder for a new era – electrified, digitised and designed to excite", says Opel CEO Uwe Hochgeschurtz. "This is how we combine our long tradition of compact estates with the latest innovations such as plug-in hybrid technology. We are certain that we will win new customers for Opel with the fantastic looking Sports Tourer."

With vital statistics of 4,642 x 1,860 x 1,480 millimetres (L x W x H) and a loading height of around 600 mm, the practical new Astra Sports Tourer further strengthens Opel's leading reputation in the estate market sector and also displays the brand's typical talent for efficient packaging. However, the overall length is 60 mm shorter than that of the previous model, thanks to the particularly short front overhang, and despite the considerably longer wheelbase of 2,732 mm (+70 mm) that is even 57 mm longer than that of the new Astra hatchback.

Flexibility in the boot: "Intelli-Space" moveable floor

The boot of the new Astra Sports Tourer provides up to more than 608 litres of useful storage space with the rear seatbacks upright, and up to more than 1,634 l when folded – plenty of room to accommodate, for example, a transport box for a medium sized dog. In addition, when the 40:20:40-split rear seatbacks (standard equipment) are folded down, the floor is completely flat. Even with their underfloor lithium-ion battery, the plug-in hybrid variants still offer handy cargo volumes of more than 548 l and 1,574 l respectively.

The boot volume of combustion engine variants is optimised with the optional "Intelli-Space". This moveable load floor can be easily adjusted with only one hand to high and low positions, and parked at a 45-degree angle. In addition, for even higher convenience, the retractable boot storage cover can be stowed when the moveable floor is in both the upper as well as the lower position – in contrast to competitors that only allow stowage of the cover when the floor is in the upper position.

The new Astra Sports Tourer with "Intelli-Space" can also make life easier in the event of a flat tyre. The kits for tyre repair and first aid are stored in clever underfloor compartments that can be accessed from the boot or rear passenger seating area. This means that the kits can be reached without needing to fully unpack the boot. Of course, the tailgate opens and closes automatically with a movement of the foot under the rear bumper.

First bold and pure estate: New Astra Sports Tourer with Opel Vizor and Pure Panel

Together with its five-door hatchback sibling, the stylish new Astra Sports Tourer is a true design statement and Opel's first estate to interpret the brand's bold and pure design philosophy. The Opel Vizor new brand face follows the Opel Compass where the vertical and horizontal axes – the sharp crease in the hood and the wing shaped graphic of the daylight running lamps – intersect with the Opel Blitz emblem in the middle. Stretching across the front, the Vizor also seamlessly integrates technologies such as the adaptive Intelli-Lux LED® Pixel headlamps and the front camera.

At the rear, the Opel Compass is repeated by the centrally mounted Blitz, the vertically aligned high-mounted brake lamp and the especially slim tail lamps. The latter are identical to those of the five-door hatchback, further strengthening the Astra family-ties.

The interior has taken a big step forward too. The fully digital Pure Panel human-machine-interface (HMI) offers customers a pure, intuitive experience. Operation is via an extra-wide touchscreen, just like a smartphone. Important settings such as climate control can still be selected directly via just a few switches. There is no need for cables either, since the new generation of multimedia infotainment and connectivity systems can be connected to wireless Apple CarPlay and Android Auto via compatible smartphones, already available on the entry-level variant.

Lighting the way for compact estates: Unique Intelli-Lux LED® Pixel Light headlamps

The new Astra Sports Tourer also makes a clear statement with the technologies it brings to the market sector for compact estates. One highlight of the extensive portfolio is the latest version of the adaptive, glare-free Intelli-Lux LED® Pixel light. The system comes directly from the Opel flagships Insignia and Grandland, with 168 LED elements, is a leader in the compact and midsize classes.

Outstanding seating comfort is typical of Opel. Developed in-house, the front seats of the new Astra Sports Tourer are certified by Aktion Gesunder Rücken e.V. / Campaign for Healthier Backs (AGR). The ultra-ergonomic seats are the best the compact class has to offer, featuring a wide range of optional adjustments, from electric tilt to electro-pneumatic lumbar support. In Nappa leather, they even offer ventilation and massage for the driver, and heating at the rear as well as the front.

Drivers receive additional support from optional state-of-the-art assistance systems such as the Intelli-HUD head-up display and Intelli-Drive 2.0. Hands-off detection on the steering wheel ensures that drivers remain engaged at all times.
Det här är nya Opel Astra
En helt ny look!
Opel är verkligen på gång med en ny stil och nu presenterar man nya Astra. Bilen som förr har varit fantastiskt mellanmjölkig känns nu riktigt frän. Eller vad tycker ni? Gamla Opel köptes av FCA-koncernen som sedan gick ihop med en massa andra märken och blev Stellantis. Det kanske inte ni bryr er om, men det gör att man fått en nystart och numera rullar på samma plattform som bland andra Peugeot 308 och inte något från General Motors. Det betyder också att bilen kommer som laddhybrid men inte som helt elektrisk, tyvärr. Drivlinorna med ren bensin eller diesel är kanske inte så skoj och levererar mellan 110 och 130 hästar. Väljer man laddhybrid blir det däremot roligare och då kan man få upp till 225 hästar. Växellådorna varierar mellan sexpetad manuell och automat med åtta växlar. Astra tar även avancerad belysning till klassen, matrix-lysena har 84 LED-element i varje lykta.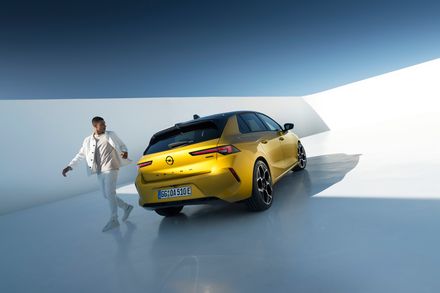 52.3°
0
Helt eldriven Opel Astra kommer 2023
Inte bara som laddhybrid alltså
När Opel i juli presenterade nya Astra fick vi reda på att den skulle elektrifieras, men något helt eldrivet alternativ fanns inte med i planerna utan det var laddhybrid som gällde. Men nu får vi reda på att det visst gör det, och en helt eldriven version ska lanseras 2023 och den får namnet Astra-e. Modellen bygger på EMP2-plattformen och uppfattningen var att denna inte kunde husera ett såpass stort batteripack som faktiskt behövs, men på något vis har man löst detta ändå. De första leveranserna av nya Astra väntas dra igång i början av nästa år.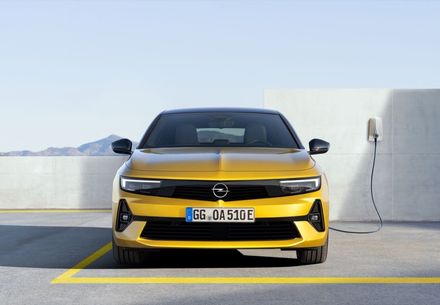 43.8°
0
37.1°
0

Bobby Green
ons. 1 dec 2021, 11:15