Info om Emergency 2012
Europa brinner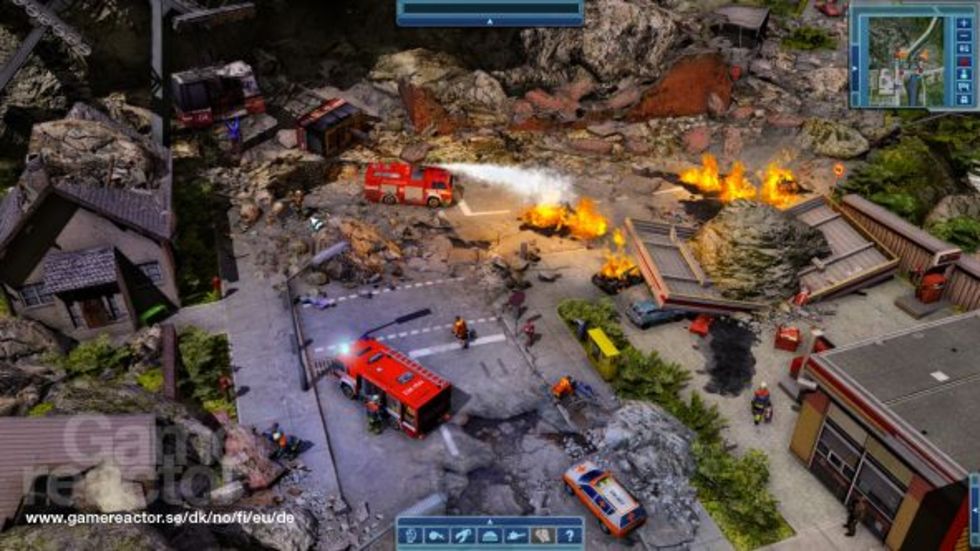 Tidigare har vi sett både bilder och introfilm till Emergency 2012, men det har inte funnits så mycket info om själva spelet. Det ändrades dock idag, när ett pressmeddelande nådde Spelfeber. I Emergency 2012 kan vi förvänta oss följande:
* Tolv uppdrag utspridda över hela Europa och med varierande krav på räddningsinsatser.
* Tre "free play"-kartor, där olika sorters katastrofer drabbar din stad.
* Online-co-op för fyra personer
Sedan nämns nya kontroller, en interaktiv tutorial, bättre grafik och en komplex spelvärld också. Efter hoppet finns korta beskrivningar av spelets tolv uppdrag och de innehåller både geografisk plats och vilken typ av katastrof det handlar om. Viss spoilerrisk för de som inte vill ha den informationen alltså.
Release till PC 5 november i Norden.
1. Cologne Cathedral in ruins
A terrific hurricane has destroyed Cologne Cathedral.
2. London: Tower Bridge on fire
London has been going through a cold spell for weeks. A truck belonging to a help convoy and laden with fuel crashes into one of the towers on Tower Bridge and explodes.
3. Anarchy in Paris
Violent storms have caused a vast amount of damage in Paris - the Eiffel Tower has even collapsed. The population protests against the inactivity of the government.
4. Blazing fire in Berlin
Berlin has been suffering from a prolonged heat wave, the town has turned into a dried-out wasteland. An emergency camp has been set up for the most desperate sufferers.
5. Disaster on the Matterhorn
Erosion has caused one side of the mountain to break away. Large areas of the city of Zermatt at the foot of the mountain have been devastated.
6. Storm tide in Hamburg
In Hamburg, a storm tide has flooded a large portion of the harbor and the Reeperbahn.
7. Snow disaster in Munich
Munich has been buried under many meters of snow. The city's inhabitants must be evacuated.
8. Plane crash on the Red Square
A large airliner was caught in a hailstorm and struck by hailstones. It has crashed on Moscow's Red Square.
9. Nuclear disaster in Frankfurt
Massive floods have damaged the foundations of a nuclear power station's cooling tower so badly that it collapsed. Radioactive steam has been released, and the wind is carrying clouds of it straight towards Frankfurt.
10. Religious fanatics
On Mallorca, a religious sect believes the end of the world is coming. Its leader has instructed all members to commit mass suicide.
11. An avalanche destroys Innsbruck
A large avalanche has left the town of Innsbruck buried under barrels of snow. This is a mission in two parts, as the river Inn has also been dammed by rubble.
12. Athens in flames
Vast forest fires have broken out on the Acropolis hill in Athens. Countless people are in grave danger, and the fires are quickly spreading to the city's buildings.
e2012.deepsilver.com
Spel, PC,
Emergency 2012, Quadriga, Deep Silver
37.5°
0

Kristoffer Arvidson
tis. 19 okt 2010, 15:20