Trailer till The Dirt
Den vansinniga historien om Mötley Crüe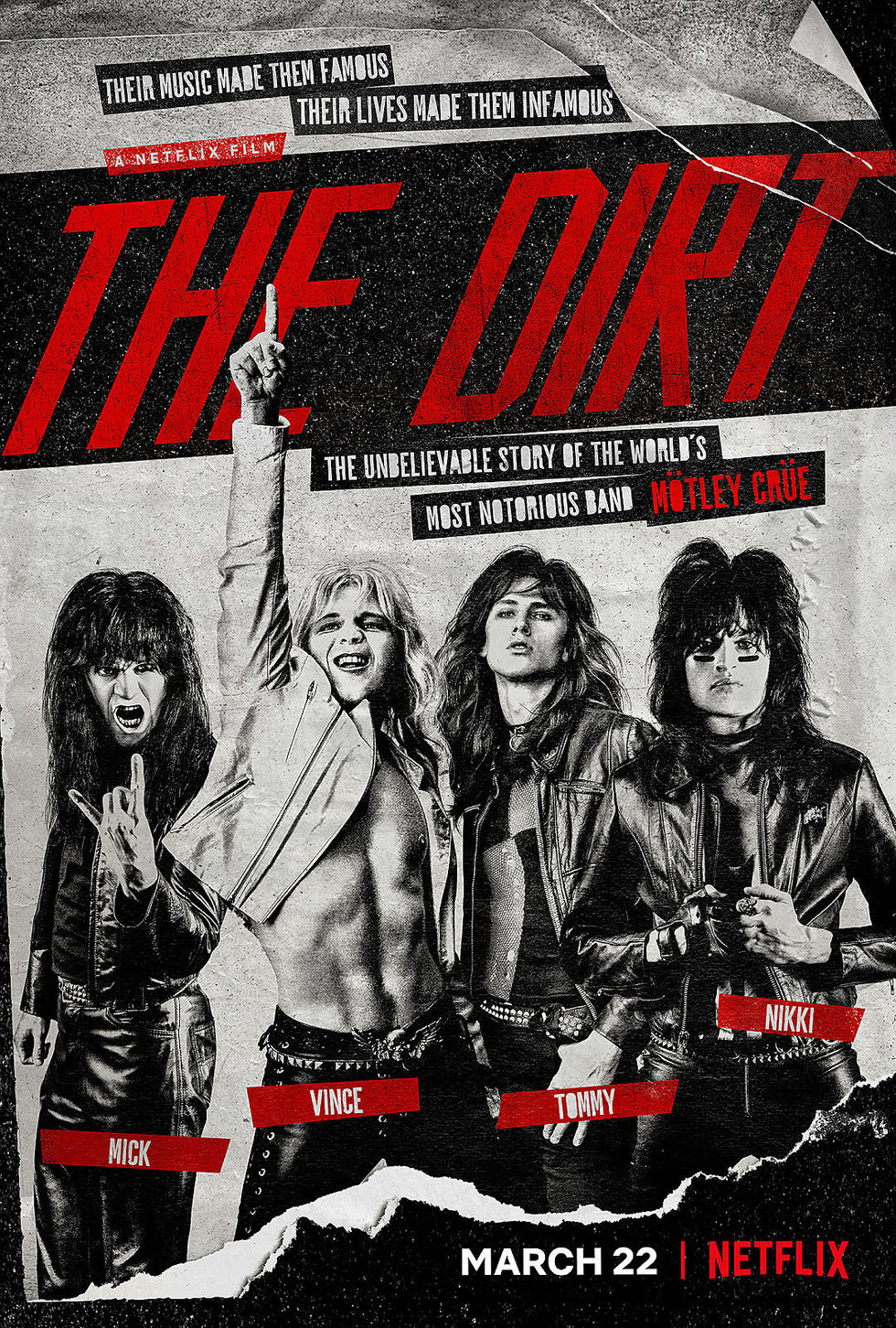 Här kommer trailern till The Dirt vilket är en spelfilm som handlar om det mytomspunna amerikanska heavy metal-bandet Mötley Crüe.
Filmen baseras på den biografiska boken The Dirt: Confessions of the World's Most Notorious Rock Band från 2001 som bandmedlemmarna skrev tillsammans författaren Neil Strauss. Ni som har läst boken vet att Mötley Crüe, antagligen mer än nästan alla andra band genom tiderna, mer eller mindre var sinnebilden för "sex, drugs and rock'n roll"-livsstilen och jag antar att filmen kommer att belysa det.
Bandmedlemmarna Vince Neil, Tommy Lee, Nikki Sixx och Mick Mars kommer att spelas av skådespelarna Daniel Webber, Machine Gun Kelly, Douglas Booth och Iwan Rheon. The Dirt börjar sändas på Netflix 22 mars.
imdb.com
Film & TV, Trailer,
the dirt, mötley crue, netflix
Ingen video laddad. Detta kan bero på adblocker.
Försök igen
The Dirt
Based on the bestselling autobiography from Mötley Crüe, the film is an unflinching tale of success and excess as four misfits rise from the streets of Hollywood to the heights of international fame.

Skådespelare: Douglas Booth, Iwan Rheon, Machine Gun Kelly Regissör: Jeff Tremaine Premiär: 22 Mar 2019
Jackass-regissören gör film om klassiskt rockband
Mötley Crüe
Jackass-regissören Jeff Tremaine kommer att regissera filmen om det legenariska 80-talsbandet Mötley Crües historia. Det hela baseras på biografin The Dirt: Confessions Of The Worldx27s Most Notorious Rock Band, som skrevs av Vince Neil, Nikki Sixx, Tommy Lee och Mick Mars i samarbete med Neil Strauss. Enligt Deadline kommer filmen att passa in i följande beskrivning: "Big hair, big sound, big money, big brawls, scandals and debauchery, and the inevitable big problems caused by drugs, drink, and living and breathing the rock-and-roll lifestyle as the quartet rose from playing local clubs on Hollywood's Sunset Strip to touring the world as global rock stars." Det blir intressant att se hur Tremaine tar sig an ett sådant här projekt.
47.1°
0
44.2°
0
Wille Wilhelmsson
tis. 19 feb 2019, 17:15