BMW börjar leverera i4 tre månader tidigare än väntat
Första iX-kunderna får även sina bilar om en vecka
Det brukar handla om förseningar när det gäller leveranser av nya bilar, men inte nu. BMW har nämligen börjat leverera de första exemplaren av elbilen i4 till kunder och det är tre månader tidigare än man först hade sagt. Om en vecka ska även de första kunderna få sina exemplar av den eldrivna suven iX.
Bernhard Kuhnt som är Senior Vice President BMW Group Market Germany säger följande:
"It is a very special moment for us when we hand over brand new models to customers for the first time. The BMW i4 shows in an emotional way how well fully-electric mobility and sporty driving dynamics fit together. For us, it is therefore clear: the BMW i4 will offer our customers a whole new dimension of driving pleasure."
i4 erbjuds i två stycken versioner - eDrive40 och M50. Den förstnämnda har en elmotor på 340 hästar och en räckvidd på 59 mil medan M-versionen har dubbla motorer, fyrhjulsdrift, 544 hästar och räckvidd på 52 mil.
Bil, BMW,
BMW i4, BMW iX, leverans, elbilar, tidigare, snabbt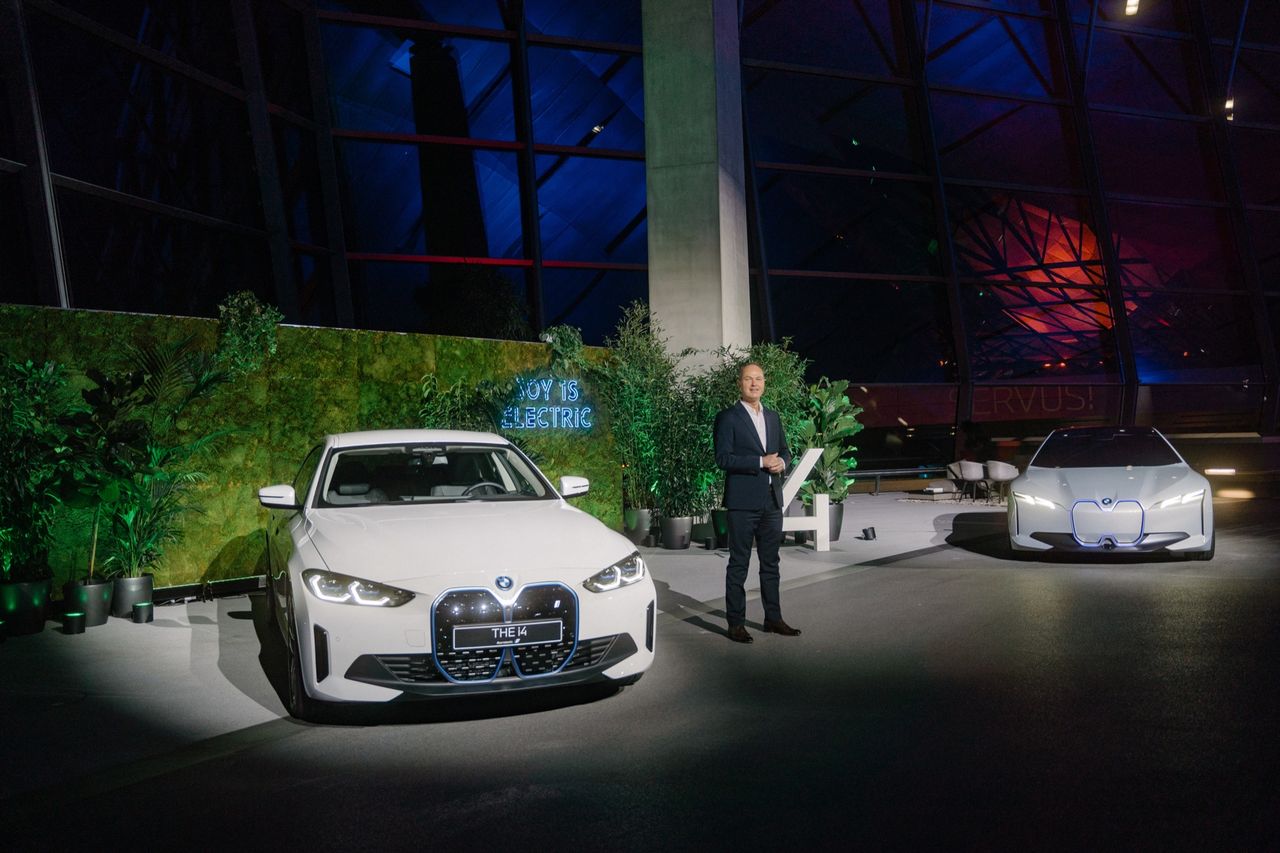 Visa Pressmeddelande
Electrifying moments at BMW Welt: First customers take delivery of their fully-electric BMW i4 vehicles.

From the heart of the BMW brand – fully-electric on the road: The first BMW i4 vehicles were delivered at the BMW Welt last weekend. Bernhard Kuhnt, Senior Vice President BMW Group Market Germany, is delighted: "It is a very special moment for us when we hand over brand new models to customers for the first time. The BMW i4 shows in an emotional way how well fully-electric mobility and sporty driving dynamics fit together. For us, it is therefore clear: the BMW i4 will offer our customers a whole new dimension of driving pleasure."

On this special occasion, the BMW Group did not miss the opportunity to invite the customers of the first BMW i4s to an accompanying programme around the fully-electric Gran Coupé in Munich.

Stefan Ballin, owner of an electrical contracting company and one of the first customers, was delighted to take delivery of his BMW i4: "It wasn't possible, at the time I placed the order, to take a test drive, but I knew the BMW i4 was exactly the right car for me! I was impressed by the concept – the symbiosis of range, elegant design and unmistakeable BMW sportiness. I also wanted a car that would show how we, as an innovative company, can comfortably integrate electromobility into both our private and working environments. I'm also looking forward to sporty driving pleasure with zero emissions in the i4 – because the electricity I need to run it will come from our own photovoltaic system."

Bernhardt Kuhnt confirmed: "With the BMW i4, we have absolutely struck a chord. You can see this from the very high demand for this car. We are delighted to be expanding our electrified product line-up with this sporty, fully-electric Gran Coupé at exactly the right time and to present the first vehicles to our customers today – three months earlier than originally planned. The first delivery of a BMW i4 today, and the first BMW iX in about a week, are further milestones for the BMW Group on the road to electromobility."

One in four BMW Group vehicles in Germany electrified

Kuhnt goes on to explain: "One in four BMWs delivered in Germany today already comes with a fully-electric drive train or is a plug-in hybrid. By the end of the third quarter, around 41,900 electrified BMWs and 8,820 electrified MINIs had been delivered to customers this year. The fully-electric MINI Cooper SE alone already accounts for about 20 percent of MINI brand sales. The BMW Group has almost doubled its sales of electrified models in Germany compared with the previous year, at around 25 percent."

Impressive driving dynamics thanks to model-specific chassis technology and electric drive train

The BMW i4 combines characteristic sportiness with elegant design – and brings electromobility to the traditional core of the BMW brand. The four-door Gran Coupé is the first fully-electric BMW consistently geared towards driving dynamics. Impressive driving dynamics and high range are combined by harnessing the power of efficient drive technology and intelligent lightweight construction.

Range and innovative technology were also purchasing considerations for Ronny Scharschmidt, whose firm implements regional construction projects with renewable energies: "I decided on the i4 because of the range and the many new driving functions and on-board sensors that make driving safer and more comfortable. My first long drive in the BMW i4 will be from Munich directly home to Saxony-Anhalt: In the meantime, there are enough fast chargers that you don't have to worry about charging anymore."

Convenient charging

When BMW Group customers buy an electrified vehicle, it comes with a BMW or MINI Charging Card that gives them access to one of the world's largest charging networks. BMW also offers two options for convenient charging at home: the BMW Wallbox and the Smart Wallbox from BMW Group partner NewMotion. For example, this wallbox also enables company car drivers to precisely record charging processes for accounting purposes.

BMW Group electro-offensive continues

In addition to the two main innovation flagships, the BMW iX and BMW i4, the BMW i3, MINI SE* and BMW iX3* are already on the market. These will be followed in the coming years by fully-electric versions of the BMW 7 Series, BMW X1 and the high-volume BMW 5 Series. Every plant in Germany will produce fully-electric cars from 2022 onwards. A fully-electric successor to the MINI Countryman and the all-electric Rolls-Royce Spectre will also be released onto the market. By 2023, the BMW Group will have at least one fully-electric model on the roads in about 90 percent of its current market segments. The BMW Group expects fully-electric vehicles to account for at least 50 percent of its global sales in 2030.

*Consumption/emissions data:

BMW iX3: Power consumption in kWh/100 km combined: 18.9-18.5 WLTP

MINI Cooper SE: Power consumption in kWh/100 km combined: 16.9-14.9 NEDC, 17.6-15.2 WLTP
Nu har BMW i4 börjat tillverkats
Syns snart på vägarna
BMW i4 verkar vara en riktigt trevlig bil där man får en pigg rackare som inte riktigt är M-kapabel men som levererar riktigt bra prestanda till ett, jämfört med fossilbilen, rimligt pris. Nu har bilen börjat tillverkats i BMWs fabrik i München och man producerar faktiskt alla varianter av 3- och 4-serien på samma tillverkningslina. Man är lite extra stolta över detta eftersom man lyckats få in elbilsversionen tillsammans med de andra utan att stanna tillverkningen. BMW i4 kommer i två versioner. eDrive40 har 374 hästar och kostar 625.000 kronor och M50 har 544 hästar och kostar 725.000 kronor.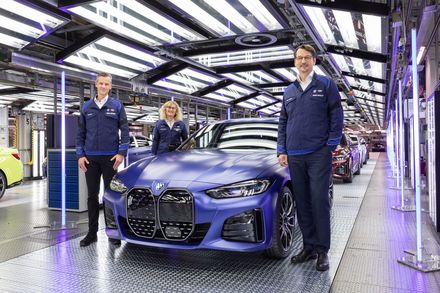 41.7°
0
Det här är helt elektriska BMW i4
M4-prestanda för mindre peng!
Vi har sett ett antal olika elbilar från olika tillverkare som liksom är nya typer av bilar och inte direkt ersätter någon av de nuvarande modellerna. Nu börjar det dock komma modeller som ska ersätta äldre modeller och en av dessa är BMWs i4. Detta är alltså framtidens 4-serie, men versionen med fossilmotorer som rätt nyligen har presenterats kommer att leva kvar vid sidan av denna. På utsidan känner vi igen modellen, likheterna med just 3 och 4-serien är många. Bland annat hittar vi de gigantiska njurarna i fronten. Precis som med 4-serien så ska det här vara en bil som är riktigt trevlig att köra och får bra prestanda. Två modeller kommer att släppas vid lanseringen, den enklare kallas eDrive40 och BMW vill nog att vi ska jämföra denna med M440i vilket fungerar på vissa plan men inte alla. eDrive40 har 340 hästar vilket är snudd på M440i som har 374 hästar, men noll till hundra går på 5,7 sekunder vilket är 1,2 sekunder långsammare än M440i, här är den snarare jämförbar med en 430i. eDrive40 har också bakhjulsdrift precis som 430i. Prislappen på denna ligger på 625.000 kronor, vilket efter skattereduktioner är en bit över vad en 430i kostar (488.200 kronor) men inte galet mycket dyrare faktiskt. Den fetare versionen kallar man för M50 och som namnet antyder är det fart på denna. Här får man två elmotorer som tillsammans ger 544 hästar och som bonus även ger fyrhjulsdrift. 544 hästar är mer än de 480 man får i en M4:a vilket gör att accelerationen faktiskt blir bättre, 3,9 sekunder för M50 mot 4,2 för M4. Av någon anledning så har BMW valt att "bara" ta 100.000 kronor extra för denna vilket gör att prislappen landar på 725.000 kronor, en M4 börjar på 885.400 kronor. Nu är M50 inte en "riktig" M-bil även om M-gänget har varit med och hjälpt till, bilen ska ha M-fjädring, variabel sportstyrning och M-bromsar. Hur denna står sig mot M4 får vi alltså återkomma till, men det känns lovande detta. Batteriet är på 83,9 kWh i båda modellerna men räckvidden skiljer sig lite. eDrive40 kommer 59 mil medan M50 kommer 51,1 mil. Inte så illa det. På gatorna kommer i4 att börja rulla i november. Folk som vet något säger att elbilar kommer att vara billigare än motsvarande fossilbilar 2025 ungefär, men kanske är vi där i vissa fall långt tidigare. Den blåa bilen bland bilderna är M50, den vita eDrive40.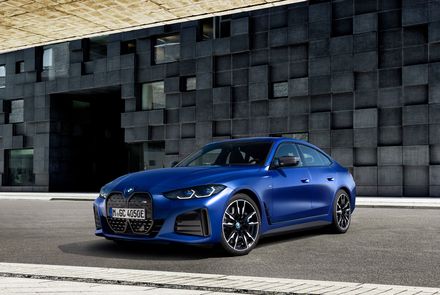 42.4°
0
Vi har kollat in BMW iX
Första leveranserna i november
Det händer mycket på elbilsfronten nu och en kommande och intressant modell är BMW iX. Det här är deras första SUV, eller SAV som de kallar den, i deras "rena" i-serie där vi tidigare har sett i3 och i8. BMW ska ha lite cred för att man har väntat så länge med en SUV, men nu är den alltså produktionsklar och vi har kollat in två förseriebilar. Är man sugen på att köpa finns det två varianter, iX xDrive40 har 326 hästar, batteri på 71 kW netto, laddkapacitet på 150 kW, räckvidd på 425 km och 0-100 går på 6,1 sekunder. iX xDrive50 har 523 hästar, batteri på 105,2 kW netto, laddkapacitet på 200 kW, räckvidd på 630 km och 0-100 går på 4,6 sekunder. Senare kommer ytterligare en version som man kallar för iX M60 och den har 600 hästar. Utsidan är, hmm, udda och när vi frågade på Instagram vad ni tycker om den var det en övervägande majoritet som tyckte att bilens design inte var mycket att hänga i julgranen. Uppskattningsvis 75 procent av er dissade formen.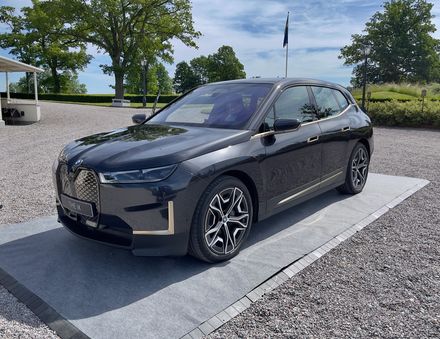 39.2°
0
43.3°
0

Bobby Green
tis. 30 nov 2021, 15:15