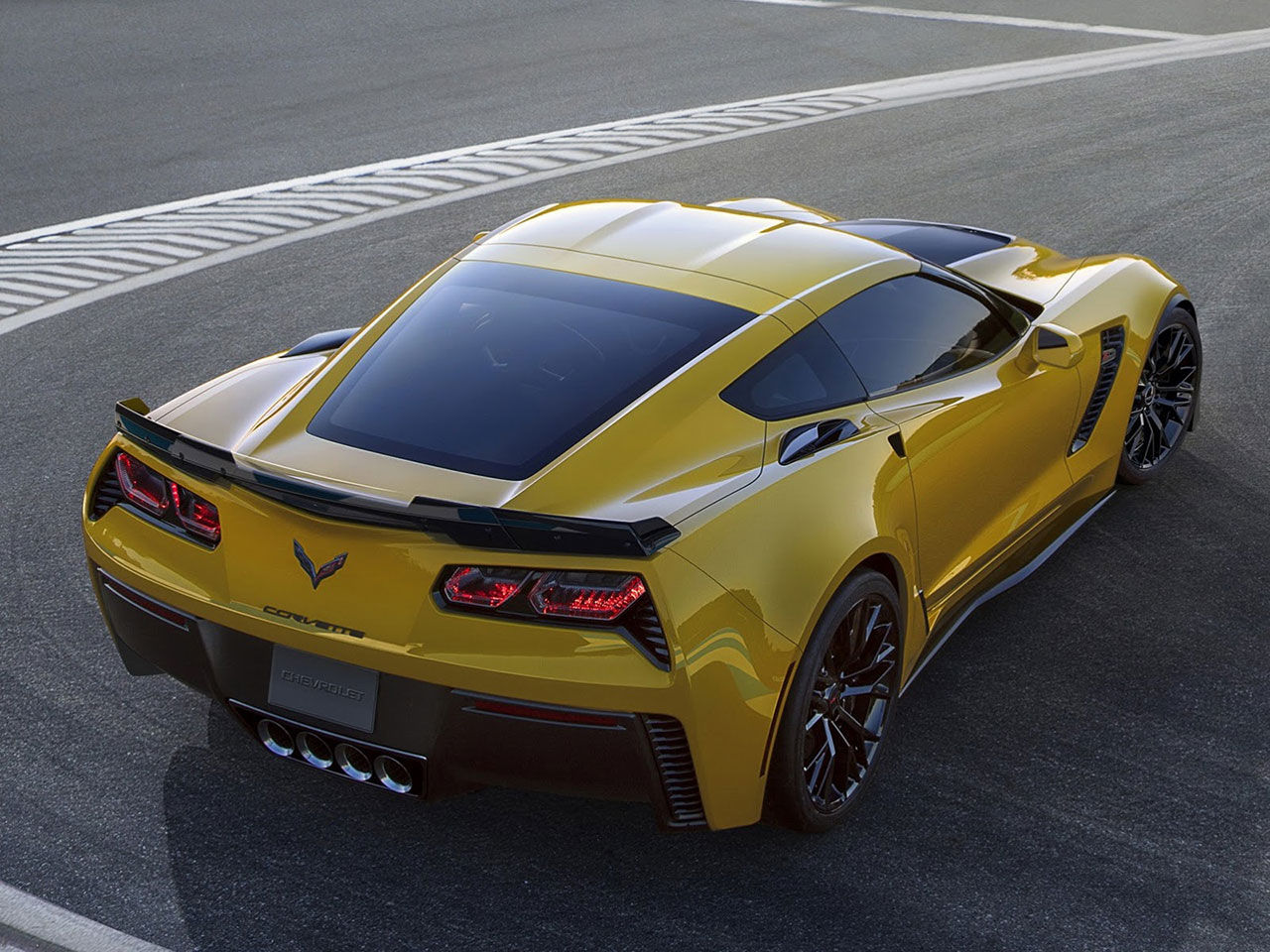 Chevrolets nya bansmiskare heter Corvette Z06. Den tar vid där föregångaren lämnade av och blir betydligt vassare på alla punkter. En Z06 som är som förra ZR1 i princip, fast bättre.
Under den böljande huven ruvar en ny LT4-V8:a på 6.2 liter. Den får till skillnad mot förra Z06 en kompressor och levererar 634 hästar och ett vrid på 860 Nm. Till motor kopplas antingen en sjupetad manuell låda eller ny åttastegad automat. Vad det rör sig om för prestandasiffror får vi dock inte reda på än.
Bilen går att få i tre olika utföranden, allt beroende på hur mycket du vill lätta på lädret. Från standardutrustning till mer avancerade grejer som ställbar bakvinge med mera. I hjulhusen sitter det 285/30 ZR19 fram och innanför dessa bromsar från Brembo med sexkolvsok. Där bak fläskas det på med 335/25 ZR 20. Väljer du till Z07-paketet får du Pilot Sport Cup-däck och keramiska bromsskivor som sparar tio kilo i vikt.
På insidan får man en sportigare ratt med platt botten att hålla i, och sitter gör man i sport- eller skalstolar. I kupén samsas nappaläder med aluminium, kolfiber och mocka på sina ställen. För första gången i en Z06 ska du även kunna plocka bort en bit av taket och njuta av solen när den är framme. Med taket bortplockat är bilen fortfarande 20 % styvare än ZR1, med det på 60 %.
Nya Corvette Z06 börjar levereras i januari nästa år.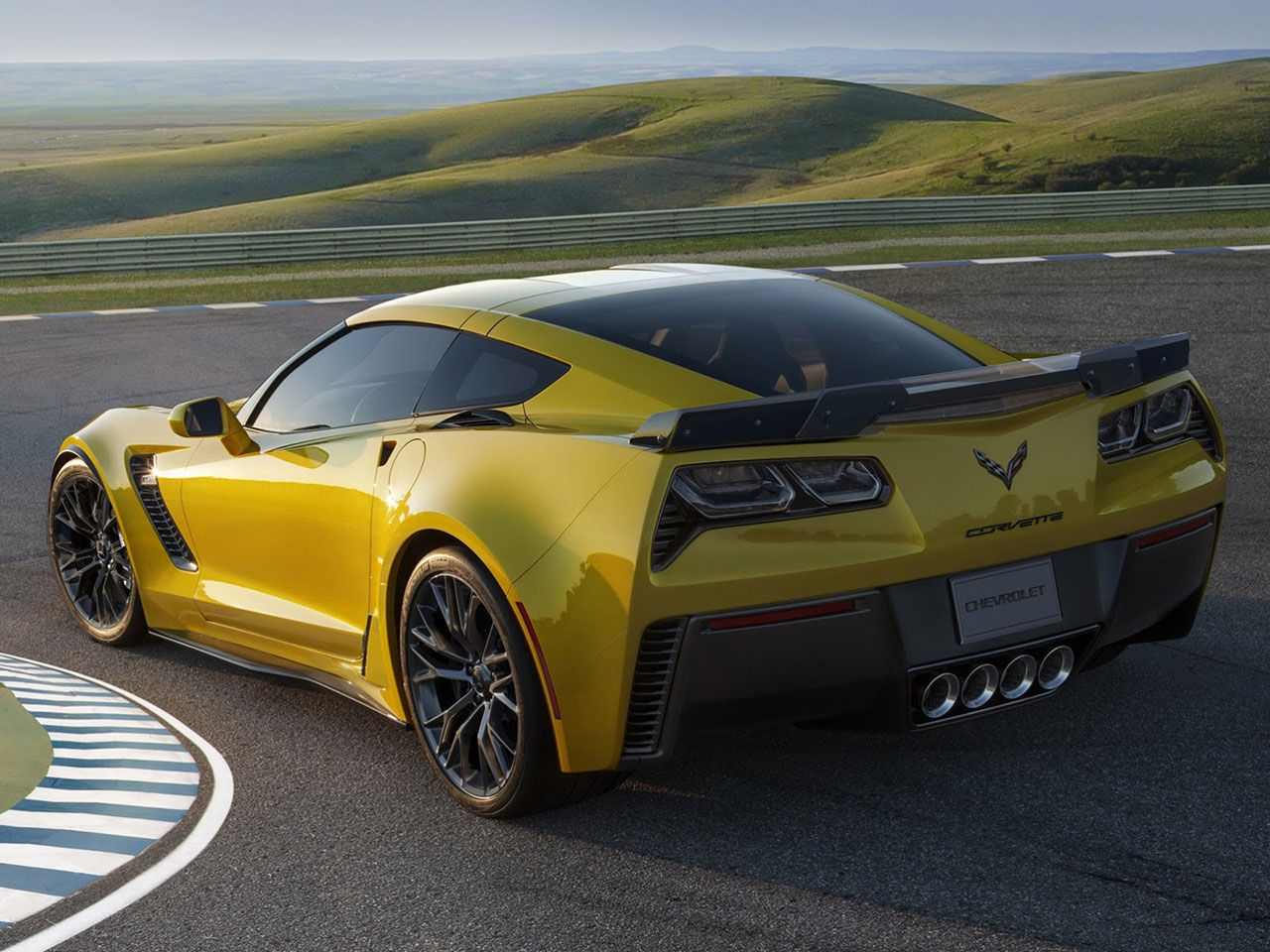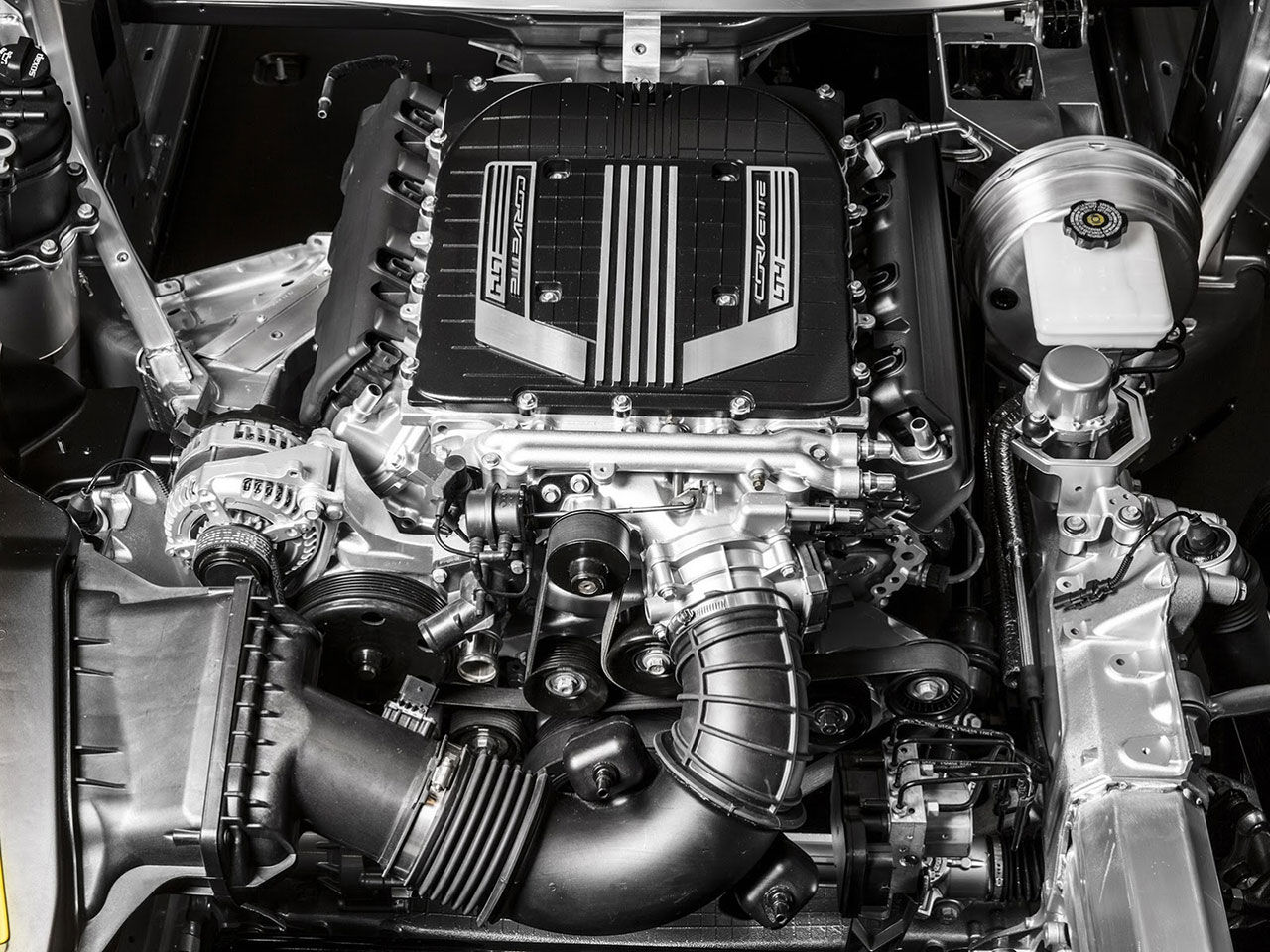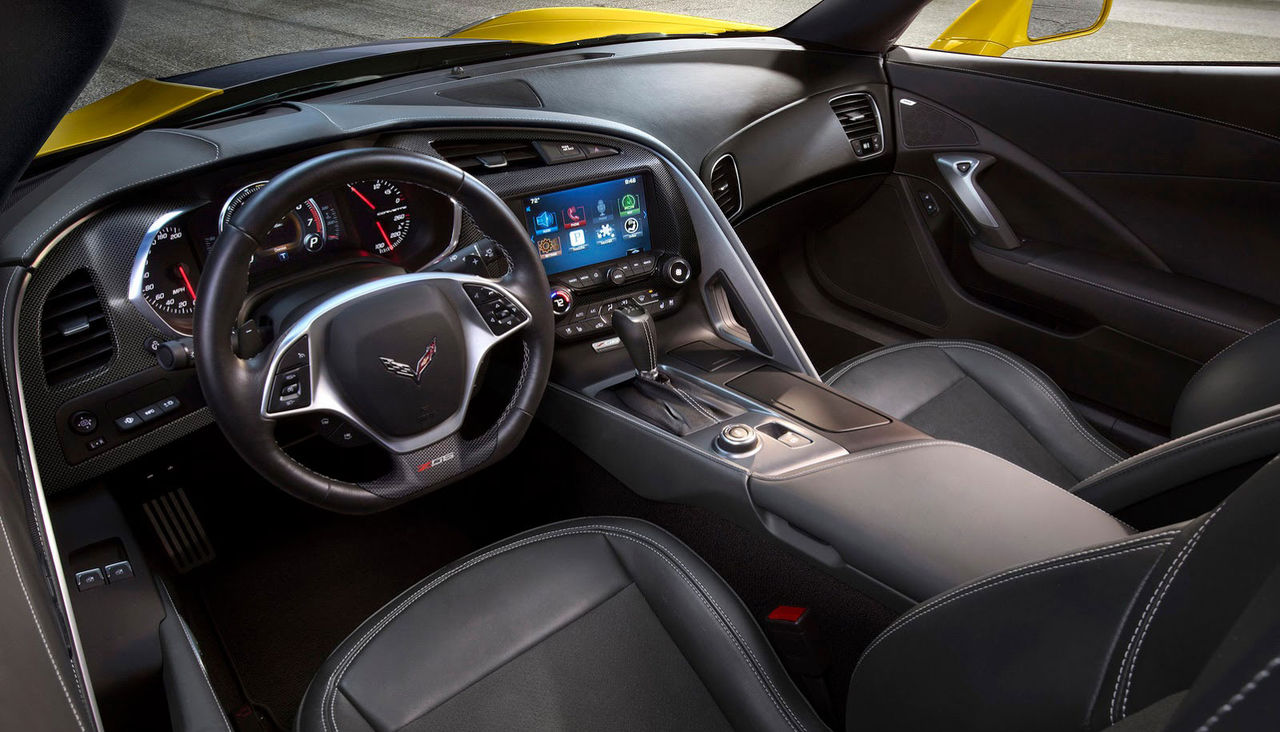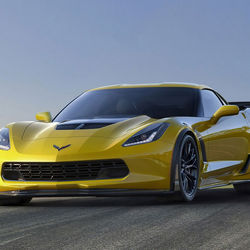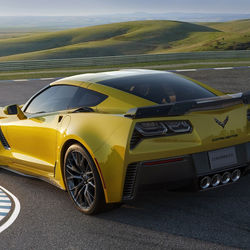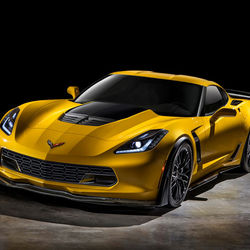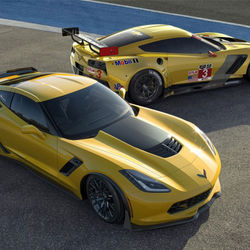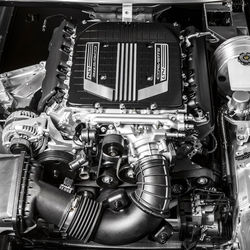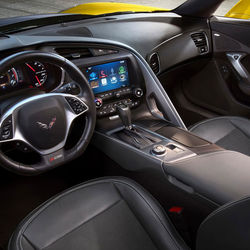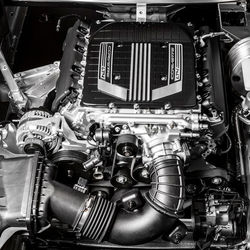 2015 Chevrolet Corvette Z06 the Most Capable, Ever

Enters supercar territory with race-proven design, advanced technologies and world-class performance

With the track-focused Z07 performance package, the 2015 Corvette Z06 delivers faster lap times than the 2014 Corvette ZR1

The first Corvette Z06 to offer a supercharged engine, a removable roof panel, and an available paddle-shift automatic transmission

DETROIT – Chevrolet today introduced the most track-capable Corvette in the brand's history – the 2015 Corvette Z06. It elevates the performance envelope for Corvette with unprecedented levels of aerodynamic downforce, at least 625 horsepower from an all-new supercharged engine, and an all-new, high-performance eight-speed automatic transmission – all building on the advanced driver technologies introduced on the Corvette Stingray.

"The new Z06 delivers levels of performance, technology and design that rival the most exotic supercars in the world," said Mark Reuss, president, General Motors North America. "And the Z06 leverages the engineering expertise of GM, offering the choice of two world-class transmissions, supercar performance without supercar fuel consumption, and technologies that make it easier to fully enjoy the incredible experience of driving it."

The 2015 model is the first Corvette Z06 to offer a supercharged engine, an automatic transmission and, thanks to a stronger aluminum frame, a removable roof panel. The new, supercharged 6.2L engine is expected to deliver at least 625 horsepower (466 kW), and can be matched with either a seven-speed manual or an all-new, high-performance eight-speed automatic transmission with paddle shifters for manual control. The aluminum frame carries over from the Corvette Stingray and will also be used essentially unchanged for the Corvette Racing C7.R.

A track-focused Z07 Performance Package adds unique components for true aerodynamic downforce, Michelin Pilot Super Sport Cup tires for enhanced grip, and Brembo carbon ceramic-matrix brake rotors that improve braking performance and contribute to greater handling through reduced unsprung weight. Although development testing is ongoing, the Z07 package has already recorded some of the fastest lap times ever for a Corvette, surpassing even the ZR1.

"The Corvette Z06 is a great example of the technology transfer between racing and production Corvettes," said Tadge Juechter, Corvette chief engineer. "First, we took what we learned on the Corvette Racing C6.R and applied that to the all-new Corvette Stingray. Then, using the Stingray as a foundation, the Z06 and C7.R were developed to push the envelope of performance on the street and the track."

Supercharged, efficient performance
The heart of the 2015 Corvette Z06 is the all-new LT4 6.2L supercharged V-8 engine, expected to deliver an estimated 625 horsepower (466 kW) and 635 lb.-ft. of torque (861 Nm). To balance performance and efficiency, the LT4 leverages the same trio of advanced technologies introduced on the Corvette Stingray: Direct injection, Active Fuel Management (cylinder deactivation) and continuously variable valve timing.

These technologies – combined with the fuel-efficient multi-speed transmissions, aerodynamic design and lightweight construction – help make the new Z06 surprisingly fuel-efficient.

"The supercharged LT4 engine delivers the greatest balance of performance and efficiency ever in the Corvette," said John Rydzewski, assistant chief engineer for Small-Block engines. "It is one of the world's only supercharged engines to incorporate cylinder deactivation technology, enabling it to cruise efficiently on the highway with reduced fuel consumption, but offer more than 600 horsepower whenever the driver calls up its tremendous power reserve."

To maintain the Z06's mass and performance targets, the LT4 engine was designed with a more-efficient, more-compact next-generation supercharger. Even with its integrated supercharger/intercooler assembly mounted in the valley between the cylinder heads, the engine is only about 1 inch (25 mm) taller than the Corvette Stingray's LT1 engine – while delivering nearly 37 percent more horsepower and 40 percent more torque.

The new 1.7L Eaton R1740 TVS supercharger spins at up to 20,000 rpm – 5,000 rpm more than the supercharger on the Corvette ZR1's LS9. The rotors are shorter in length, too, which contributes to their higher-rpm capability – and enables them to get up to speed quicker, producing power-enhancing boost earlier in the rpm band. That boost is achieved more efficiently, thanks to a new, more direct discharge port that creates less turbulence, reducing heat and speeding airflow into the engine.

The LT4 engine also has several unique features designed to support its higher output and the greater cylinder pressures created by forced induction, including:
Rotocast A356T6 aluminum cylinder heads that are stronger and handle heat better than conventional heads
Lightweight titanium intake valves and machined connecting rods for reduced reciprocating mass
High 10.0:1 compression ratio – for a forced-induction engine – enhances performance and efficiency; enabled by direct injection
Forged aluminum pistons with unique, stronger structure to ensure strength under high cylinder pressures
Stainless steel exhaust headers and aluminum balancer that are lighter than their LT1 counterparts
Standard dry-sump oiling system with larger cooler capacity than Z51; used with dual-pressure-control oil pump.
The LT4 will be built in Tonawanda, N.Y., and Bowling Green, Ky., at the new Performance Build Center.

Eight speeds, no waiting
The supercharged LT4 is offered with a standard seven-speed manual transmission with Active Rev Match, or an all-new 8L90 eight-speed paddle-shift automatic transmission designed to enhance both performance and efficiency.

"Unlike most ultra-performance cars, the Corvette Z06 offers customers the choice between two transmissions to suit their driving styles," said Juechter. "The seven-speed gives the driver the control of a true three-pedal manual transmission with perfect shifts enabled by Active Rev Matching. The new eight-speed automatic offers drivers the comfort and drivability of a true automatic transmission, as well as lightning-fast shifts and manual control for track driving."

The seven-speed manual incorporates rev-matching technology for upshifts and downshifts. This driver-selectable feature can be easily engaged or disengaged via paddles on the steering wheel. The seven-speed is used with a new dual-mass flywheel and dual-disc clutch, which deliver greater shift quality and feel through lower inertia.

The eight-speed automatic is tuned for world-class shift-response times, and smaller steps between gears keep the LT4 within the sweet spot of the rpm band, optimizing the output of the supercharged engine for exhilarating performance and greater efficiency.

For performance driving, the transmission offers full manual control via steering wheel paddles, and unique algorithms to deliver shift performance that rivals the dual-clutch/semi-automatic transmissions found in many supercars – but with the smoothness and refinement that comes with a conventional automatic fitted with a torque converter.

In fact, the 8L90's controller analyzes and executes commands 160 times per second, and wide-open-throttle upshifts are executed up to eight-hundredths of a second quicker than those of the dual-clutch transmission offered in the Porsche 911.

"There's no trade-off in drivability with the new 8L90 eight-speed automatic transmission – it was designed to deliver performance on par with dual-clutch designs, but without sacrificing refinement," said Bill Goodrich, assistant chief engineer for eight-speed automatic transmissions. "It is also the highest-capacity automatic transmission ever offered in a Chevrolet car."

Featuring four gearsets and five clutches, creative packaging enables the GM-developed eight speed automatic to fit the same space as the six-speed automatic used in the Corvette Stingray. Extensive use of aluminum and even magnesium make it more than eight pounds (4 kg) lighter than the six-speed, as well. Along with design features that reduce friction, the 8L90 is expected to contribute up to five-percent greater efficiency, when compared with a six-speed automatic.

The eight-speed automatic will be built at GM's Toledo, Ohio, transmission facility.

Designed for downforce
The performance targets of the Z06 also posed a challenge for the design team, who had to create a striking design that also contributed to increased capabilities.

"Virtually every exterior change served a functional purpose, as this beast needed more of everything," said Tom Peters, Corvette design director, "The flared fenders accommodate larger, wider wheels and tires for more grip. The larger vents provide more cooling air to the engine, brakes, transmission and differential for increased track capability. The more aggressive aerodynamic package generates true downforce for more cornering grip and high-speed stability."

Indeed, the design changes began not with the exterior panels, but the tires.

To deliver the levels of grip needed for the Z06's performance targets, the Z06 was fitted with larger Michelin tires (Pilot Sport tires for the Z06; Sport Cup tires with the Z07 package). The P285/30ZR19 front tires are 1.5 inches wider than the tires on the Stingray, while the 335/25ZR20 rear tires are two inches wider.

To cover the wider tire tread, the fenders of the Z06 were extended by 2.2 inches (56 mm) at the front, and 3.15 inches (80 mm) at the rear. These extensions give the Corvette Z06 a wider, lower appearance that is further emphasized by a unique rear fascia. It incorporates the same taillamp assemblies as the Stingray, but on the Z06 the taillamps are pushed approximately three inches farther apart, toward to edges of the body.

The tires are mounted on lightweight, spin-cast aluminum wheels that are also wider than the Stingray (19 x 10 inches in front and 20 x 12 inches in the rear). Their open, ultralight design showcases the massive Brembo brakes, which are part of the design aesthetic:
The Z06 features two-piece steel rotors, measuring 14.6 x 1.3-inch (371 x 33 mm) front and 14.4 x 1-inch (365 x 25 mm) rear, with aluminum six-piston and four-piston fixed calipers, respectively
The Z07 package adds larger, 15.5 x 1.4-inch (394 x 36 mm) front and 15.3 x 1.3-inch (388 x 33 mm) carbon ceramic-matrix brake rotors for consistent performance lap after lap, and collectively save 23 pounds over the standard Z06 rotors.
To harness the cornering and braking grip afforded by the larger tires and brakes, the exterior of the Corvette Z06 has also been tailored to produce aerodynamic downforce that presses the tires to the ground at high speeds.

The Z06 will offer three, increasing levels of aerodynamic downforce:
The standard Z06 features a front splitter, spats around the front wheel openings, a unique carbon-fiber hood with a larger vent, and the rear spoiler from the Corvette Stingray's Z51 Performance Package
An available carbon-fiber aero package (in either black or a visible carbon-fiber finish) adds a carbon fiber front splitter with aviation-style winglets, carbon fiber rocker panels, and a larger rear spoiler with a fixed wickerbill – a small, vertical tab at the edge of the spoiler that significantly increases downforce
The available Z07 package adds a larger winglets to the front splitter, along with an adjustable, see-through center section on the rear spoiler for track use; with this package, the Corvette Z06 delivers the most amount of aerodynamic downforce of any production car that GM has tested.
The exterior design also reflects the increased cooling required for the new Corvette Z06. For example, the mesh pattern on the front fascia was painstakingly designed to deliver the most possible airflow to the supercharger's intercooler heat exchanger. In fact, the mesh grill directs more air into the engine bay than with the grille completely removed.

The unique grille also features dedicated brake-cooling intakes and wider grille outlets on the bottom serve as air diffusers. The grille is complemented with a larger hood vent, which not only vents hot air from the engine compartment, but contributes to downforce by allowing air driven through the grille to exit through the hood rather than being forced under the car, which could create lift.

Additional cooling elements include larger front fender vents and unique air blades over the inlets on the rear fenders, which force about 50 percent more air into the cooling ducts for the transmission and differential coolers than those on the Stingray. To cope with the additional airflow, the Z06 has also has larger rear-fascia openings than the Stingray.

Standard front and rear brake-cooling ducts, including Z06-signature rear ducts integrated in front of the rear fender openings, are also part of the functional design changes.

Inside, the Corvette Z06 is distinguished from the Corvette Stingray by unique color schemes that emphasize the driver-focused cockpit, and a unique, flat-bottomed steering wheel.

Like the Stingray, the Z06 will be offered with two seating choices: a GT seat, for all-around comfort, and a Competition Sport seat with more aggressive side bolstering, which provides greater support on the track. The frame structure for both seats is made of magnesium, for greater strength and less weight than comparable steel frames. They're also more rigid, contributing to the enhanced feeling of support during performance driving.

The Z06 also benefits from interior details designed for high-performance driving, first introduced on the Stingray, including a steel-reinforced grab bar on the center console for the passenger and soft-touch materials on the edge of the console, where the driver naturally braces during high-load cornering.

The performance-supporting elements inside the new Corvette Z06 are complemented by unprecedented attention to detail and build quality. All models feature a fully-wrapped interior, where every surface is covered with premium, soft-touch materials. Available materials, depending on the trim level, include Napa leather, aluminum, carbon fiber and micro-suede.

Track-proven technologies
The 2015 Corvette Z06 leverages the technologies introduced on the Corvette Stingray, including the strategic use of lightweight materials and advanced driver technologies, with unique features and calibrations tailored for its capabilities.

"Our mission with the seventh-generation Corvette was to make the performance levels more accessible, enabling drivers exploit every pound-foot of torque, every "g" of grip and every pound of downforce," said Juechter. "It's a philosophy we introduced with the 460-horsepower Corvette Stingray – and one that's even more relevant with an estimated 625 horsepower at your beck and call."

For the first time ever, the Corvette Z06's aluminum frame will be produced in-house at the Bowling Green, Ky., assembly plant. It's the same robust, lightweight frame used on the Corvette Stingray and it will also be used essentially unchanged for the C7.R racecars.

The stiffer design of the aluminum frame allows the Corvette Z06 to be offered with a removable roof panel for the first time. In fact, with the lightweight, carbon fiber roof panel removed, the new Corvette Z06 offers 20 percent more structural rigidity than the previous model's fixed-roof design – and a 60-percent increase in stiffness with the roof panel installed.

The new Z06 retains the SLA-type front and rear suspension design of the Corvette Stingray, including, but uniquely calibrated for the higher performance threshold. The third-generation Magnetic Selective Ride Control dampers are standard on Z06, and can be adjusted for touring comfort or maximum track performance via the standard Driver Mode Selector.

Like on the Stingray, the Driver Mode Selector tailors up to a dozen features of the Z06 to suit the driver's environment, including:
Launch control: Available in Track mode for manual and automatic transmissions, providing maximum off-the-line acceleration
Active handling (StabiliTrak stability control): A "competitive" setting is available in Track mode and is more suited for on-track conditions. It can also be disabled, giving the driver complete control
Traction control: Weather mode tailors traction control and engine torque for driving in inclement conditions
Performance Traction Management: Available in Track mode and offers five settings of torque reduction and brake intervention for track driving
Electronic Limited Slip Differential: Adjusts the rate at which the limited slip engages, to balance between steering response and stability in different driving conditions; more aggressive performance in Sport and Track modes.
The smart electronic limited-slip differential (eLSD) is standard on the Z06, to make the most of the torque split between the rear wheels. The system features a hydraulically actuated clutch that can infinitely vary clutch engagement and can respond from open to full engagement in tenths of a second. It shifts torque-based on a unique algorithm that factors in vehicle speed, steering input and throttle position to improve steering feel, handling balance and traction.

The eLSD is fully integrated with Electronic Stability Control and Performance Traction Management systems. Its calibrations vary among three modes, based on the Drive Mode Selector setting:
Mode 1 is the default setting for normal driving and emphasizes vehicle stability
Mode 2 is engaged when electronic stability control is turned off in the Sport or Track modes. This calibration enables more nimble turn-in and traction while accelerating out of a corner
Mode 3 is automatically selected when Performance Traction Management is engaged. This calibration has the same function as Mode 2, but is fine-tuned to work with Performance Traction Management.
The new Corvette Z06 will be available in early 2015. Performance data and pricing will be announced closer to the start of production.

Corvette Z06: A Quick History of a Fast Car

DETROIT – The all-new 2015 Chevrolet Corvette Z06 is the most capable in the history of track-oriented model. The Z06 was first offered as an option package in 1963, directed squarely at those who intended to use their Corvette on a track.

Since then, the Z06 has been offered in four of the Corvette's seven production generations, each elevating the Corvette's track capability to higher levels:
Second generation (1963) – Developed under famed Corvette engineer Zora Arkus-Duntov, the first Z06 package offered enhanced handling and braking capability, along with an available, larger fuel tank that reduced the need for refueling during a race. Power came from a fuel-injected small block V-8 engine, supported by a four-speed manual transmission and Positraction rear axle. Only 199 were built – 63 of them with the larger fuel tank.
Fifth generation (2001-2004) – Combining a lower curb weight with higher horsepower, the fifth-generation Corvette Z06 was one of the fastest production cars on a track – a capability confirmed with a sub-8-minute lap around the Nürburgring. It was built on a unique fixed-roof hardtop body, with several lightweighting elements, such as thinner glass, a titanium exhaust system and more. Its unique LS6 small block engine delivered up to 405 horsepower through a six-speed manual transmission with specific, performance-optimized gearing. A total of 28,388 were built.
Sixth generation (2006-2013) – The sixth-generation Corvette Z06 featured its own, bespoke aluminum frame that was 136 pounds lighter than the steel frame on standard Corvette models. Under the hood, the 505-horsepower LS7 7.0L small block featured racing-derived technologies, including titanium connecting rods and a dry-sump oiling system. The Z07 Performance Package added carbon-ceramic matrix brakes and Michelin Pilot Sport Cup tires, enabling the Z06 to run the Nürburgring in 7:22.68. A total of 27,979 were built, including 740 with the Z07 performance package.
Seventh generation (2015) – The new 2015 Corvette Z06 is the most capable production Corvette ever. Developed in conjunction with the Corvette C7.R race car, it incorporates racing technology to deliver greater aerodynamic downforce, cornering grip and braking performance. With the available Z07 Performance Package – again fitted with Michelin Pilot Super Sport Cup tires and enhanced braking capability with carbon ceramic-matrix brakes – the new Z06 is faster on a track than the Corvette ZR1, in preliminary testing.
1963 Z06: Duntov's legacy
The first Z06 was an option package on the iconic 1963 "split-window" Corvette, developed by Corvette's legendary engineer and racing advocate Zora Arkus-Duntov. He successfully lobbied for the 1963 Corvette to offer a package for customers who intended to race the new car.

For those in the know, checking the RPO Z06 box on the Corvette's order sheet added a thicker, 24mm (0.94-inch) front stabilizer bar, larger-diameter shock absorbers and springs that were nearly twice as stiff as standard parts. The Z06 package also featured upgraded brake components, including sintered-metal brake linings, which stood up to heat and resisted wear better than conventional material; power-assisted brakes with unique Al Fin brake drums constructed of lightweight cast aluminum, with a steel center section, and cooling fins around the perimeter; and a dual-circuit master cylinder and vacuum brake booster to enhance safety and reduce braking effort – components that would become industry standards, but were still rare in regular-production vehicles of the era.

Possibly most significant for racing, the Z06 option could be combined with a larger, 36.5-gallon fiberglass fuel tank that allowed racers to stay on the track longer. Z06-equipped models quickly became known as "big tank" or "tanker" Corvettes and they were originally limited to coupe models, because the larger tank wouldn't fit convertibles. Later, Chevrolet revised the package, making the regular 20-gallon fuel tank standard and the big tank an option. The change allowed the Z06 package to be ordered on a convertible – although perhaps only one is believed to have been built – and lowered its price, which originally added more than 40 percent to the Corvette's base price. Aluminum knock-off wheels were also part of the initial package and eliminated from the list of standard content to reduce the package price.

There was one engine available with the Z06 package – the 360-horsepower L48-code 327-cubic-inch small block, which featured an advanced mechanical fuel injection system. Corvette was a pioneer in fuel injection, having introduced it in 1957. A four-speed manual transmission and Positraction rear axle were also standard equipment.

In that pre-Internet era, few Corvette customers – even those with racing intentions – knew of the Z06 package. It wasn't advertised, making word of mouth the primary source of information. Only 199 were built and only 63 of them were big-tank cars. Because most were purchased and used for racing, the attrition rate was comparatively high. Remaining, documented examples – especially the big-tank cars – are highly collectable.

2001-2004 Z06: Breaking the 8-minute Nürburgring lap
During the Corvette's fifth generation, the Z06 name was reintroduced as a special 2001 model that took Corvette performance farther than it had ever been. Engineers started with the Corvette's unique, limited-production hardtop body, which featured a fixed-roof design that was stiffer and lighter than the hatchback coupe. The car was further lightened with a titanium exhaust system, thinner glass, lighter wheels, conventional tires (in place of the standard run-flat tires), reduced sound deadening material, a fixed radio antenna (vs. a power antenna), and even a smaller, lighter battery.

The results shaved about 100 pounds off the weight of a conventional coupe model. The car also introduced rear-brake cooling ducts integrated in the rear fenders, which would become a signature styling cue.

On the other side of the power-to-weight equation is horsepower and to that end, the 2001 Z06 used an exclusive LS6 version of the Gen III small block engine. If featured unique internal parts, including a "hotter" camshaft and higher-compression pistons, and an enhanced cylinder block design for greater bay-to-bay breathing, helping it produce 385 horsepower. Further enhancements contributed to an increase to 405 horsepower in 2002. The engine was backed by a six-speed manual transmission with Z06-specific gear ratios.

Like the original 1963 Z06, the fifth-generation car included chassis and suspension components optimized for the track. Its exclusive FE4 suspension package featured a larger-diameter, hollow stabilizer bars that also had thicker walls for greater stiffness; larger-diameter shock absorbers (compared to standard models), quicker steering – 2.46 turns lock to lock vs. 2.66 on other models – and a larger wheel-and-tire package, featuring Goodyear Eagle F1 SC tires mounted on lighter, stiffer forged aluminum wheels.

By the end of its production run, the fifth-generation-based Corvette Z06 was already benefitting from technology used on the successful Corvette Racing program, including lightweight carbon fiber. A special 2004 24 Hours of Le Mans Commemorative Edition – acknowledging Corvette Racing's historic 1-2 class finish at the famous 24-hour endurance race – used a carbon fiber hood to shave 10 pounds off the nose of the car, enhancing its balance.

The 2004 Corvette Z06 proved its capability on the global stage, when it became one of the first production cars at the time to run Germany's famous Nürburgring road course in less than 8 minutes (7:56).

2006-2013 Z06: A foundation for success
The groundbreaking sixth-generation Corvette Z06 elevated Corvette to compete with the world's most capable supercars. A power-to-weight ratio of 6.2:1 was one of the best in the world, helping it run from 0 to 60 mph in about 3.7 seconds, through the quarter-mile in the low-11-second range and achieve a top speed of more than 190 mph.

The foundation of the Z06 was its own, dedicated aluminum chassis – the first time in Corvette history a unique frame was used for a special model.

The Z06's aluminum frame was 136 pounds lighter than the comparable steel frame used in standard models and even incorporated a featherweight magnesium engine cradle, contributing to a curb weight of only 3,130 pounds. Mounted on that cradle was another leap in technology: The LS7 small block engine. Displacing 7.0L (427 cubic inches), it was the largest engine offered in the Corvette in more than 30 years – and the most powerful engine in Corvette's history until the introduction of the Corvette ZR1.

The LS7 used airflow and lightweight technology, including titanium connecting rods and a dry-sump oiling system, derived from the Corvette Racing program to produce 505 horsepower.

Along with its unique frame and LS7 engine, the sixth-generation Corvette Z06 also featured:
More rigid fixed-roof body style
Wider front and rear fenders – including carbon fiber front fenders
Unique rear spoiler and front splitter
Front and rear brake-cooling ducts – including signature integrated rear-fender inlets
Specific, lightweight 18-inch front and 19-inch rear wheels, with 275/35ZR18 front tires and 325/30ZR19 rear tires
Large 14-inch (355 mm) front brake rotors with six-piston calipers and 13.4-inch (340 mm) rear rotors with four-piston calipers
Unique stabilizer bars, spring rates and shocks.

The ultimate Corvette Z06 with the Z07 Performance Package incorporated a number of components used on the 205-mph Corvette ZR1, including carbon ceramic-matrix brake rotors, Michelin Pilot Sport Cup tires, additional carbon fiber exterior components and Magnetic Selective Ride Control. In 2012, a Z07-equipped Corvette lapped the Nürburgring in 7:22.68.

2015 Z06: The most capable ever
The new 2015 Corvette Z06 is the first Z06 to offer a supercharged engine, an automatic transmission and, thanks to a stiffer aluminum frame, a removable roof panel. It is also the most track-capable Corvette, ever.

It was developed in conjunction with the Corvette C7.R race car with technology proven through Corvette Racing, the most successful program in the Tudor United Sports Car Challenge series (formerly American Le Mans Series).

A new, supercharged 6.2L engine, rated at an estimated 625 horsepower (466 kW), powers the Z06. It is also one of the industry's only supercars to offer the choice of two transmissions – a seven-speed manual and an all-new eight-speed automatic transmission. Developed by GM, the paddle-shift eight-speed offers fully manual control, delivering quick, seamless shifts that rival the world's best dual-clutch/semi-automatic transmissions.

An available, carbon fiber aero package adds a carbon fiber front splitter with aviation-style winglets, carbon fiber rocker panels and a larger rear spoiler with a fixed wickerbill – a small, vertical tab at the edge of the spoiler that significantly increases downforce.

The available Z07 package adds a larger winglets, an adjustable, see-through center section on the rear spoiler, Michelin Pilot Super Sport Cup tires and carbon ceramic-matrix brakes. With this package, the Corvette Z06 will deliver the most aerodynamic downforce of any GM production car.

The 2015 Corvette Z06 goes on sale in early 2015.

Founded in 1911 in Detroit, Chevrolet is now one of the world's largest car brands, doing business in more than 140 countries and selling more than 4.5 million cars and trucks a year. Chevrolet provides customers with fuel-efficient vehicles that feature spirited performance, expressive design, and high quality. More information on Chevrolet models can be found at www.chevrolet.com.