DB Schenker beställer 1470 stycken Volta Zero
Ska användas i Europa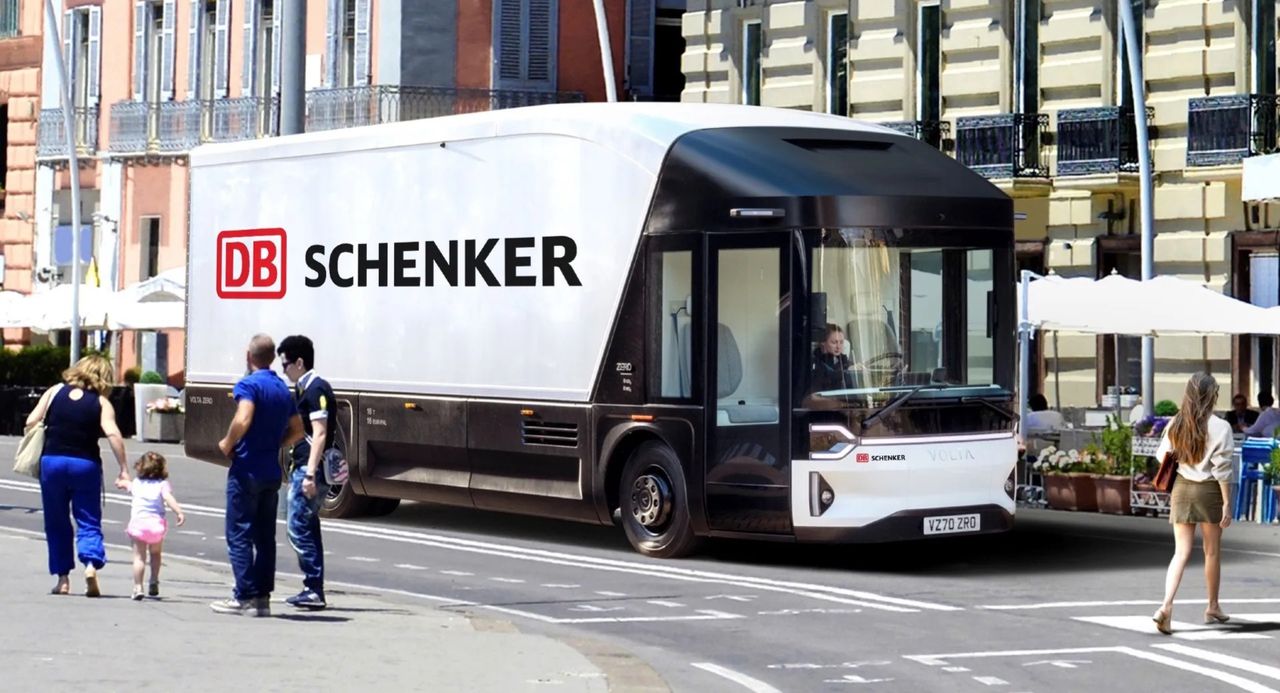 Nu meddelar DB Schenker att de har ingått ett samarbete med Volta Trucks som bygger eldrivna lastbilar. Inte mindre än 1470 stycken exemplar av modellen Zero ska vara beställda och när de väl levereras ska de börja rulla runt om i Europa. Detta ska vara den största beställningen av eldrivna lastbilar i Europa hittills och DB Schenker blir det första företaget att använda sig av bilarna från Volta. Från och med nästa vår kommer de att börja testa de första prototyperna ute på vägarna. DB kommer då att utvärdera ordentligt och behöver något justeras implementerar man det i serieproduktionen av de beställda bilarna.
Fordon, Eldrivet,
Volta, DB Schenker, samarbete, beställning, Volta Zero, lastbil, eldrift, elbil, ellastbil
Visa Pressmeddelande
DB Schenker announces a new partnership with Volta Trucks to accelerate the transition to an all-electric urban vehicle fleet

The largest pre-order for electric trucks in Europe to date
Zero-emission, revolutionary vehicle design specifically for urban environments
Translating the global climate protection agenda into decisive corporate action
Frankfurt, 10:00am CET November, 30th, 2021. Just days after the conclusion of the COP 26 conference in Glasgow, DB Schenker, one of the world's leading logistics service providers and the leader in European land transport, and Volta Trucks, a leading and disruptive full-electric commercial vehicle manufacturer and services provider, have confirmed an intensive partnership and pre-order of nearly 1,500 full-electric Volta Zero vehicles - the most significant order for large zero-emission trucks in Europe to date.

Cyrille Bonjean, Executive Vice President Land Transport at DB Schenker in Europe, said: "We have many challenges to overcome on the road to carbon neutrality. The large-scale partnership with Volta Trucks allows us to significantly increase the pace of electrification of our fleet and invest in greener transport solutions, brings us closer again to our goal of carbon neutral logistics."

Essa Al-Saleh, Chief Executive Officer of Volta Trucks confirmed the agreement with DB Schenker: "I am delighted to welcome DB Schenker as a Volta Trucks customer. Working with DB Schenker on Europe's largest full-electric truck order demonstrates the confidence that major freight distributors have in our ability to deliver a world-class zero-emission vehicle on time and to the highest possible quality."

As part of the partnership, DB Schenker will use the first prototype of Volta Zero Trucks in real distribution conditions in spring and summer of 2022. The findings from these tests will be incorporated into the serial production of 1,470 vehicles built at Volta Trucks' new contract manufacturing facility in Steyr, Austria.

The full-electric 16-tonne Volta Zero is used in DB Schenker's European terminals to transport goods from distribution hubs to the city centres and urban areas. This is where the vehicle's innovative design, safety-oriented cab to protect vulnerable road users, and zero-emission drivetrain offer the greatest benefits. Together, DB Schenker and Volta Trucks will explore the potential uses of the technology to potentially expand the offering. The rollout will begin at 10 locations in 5 countries.

The partnership will also jointly develop specifications for the previously announced 12-tonne Volta Zero variant, conducting site testing to accelerate vehicle deployment of vehicles, and train drivers.

About DB Schenker
DB Schenker is one of the world's leading logistics providers, with around 74,200 employees at more than 2,100 locations in over 130 countries. The company operates land, air and sea transports and also offers comprehensive solutions for logistics and global supply chain management from a single source.
www.dbschenker.com

About Volta Trucks
Volta Trucks is a scale-up full-electric commercial vehicle manufacturer and services company. Volta Trucks' Head Office is in Stockholm, Sweden, with its engineering led from the UK, and forthcoming manufacturing facility in Steyr, Austria. The company also has sales teams across France, Spain, Italy, Germany and the UK. Volta Trucks is partnering with a number of global leaders in the supply chain for the development and production of the Volta Zero.

About the Volta Zero
The Volta Zero is the world's first purpose-built full-electric 16-tonne vehicle designed specifically for inner-city logistics, reducing the environmental impact of freight deliveries in urban centres. Designed from the ground up with a pure-electric range of 150 to 200 km (95 – 125 miles), the Volta Zero will eliminate an estimated 1.2 million tonnes of CO2 by 2025.

Safety is also at the heart of Volta Trucks, with its ambition of producing the safest trucks for our cities. The Volta Zero was designed for electric from the outset, which facilitates a step change in vehicle, driver and pedestrian safety. Thanks to the removal of the internal combustion engine, the operator of a Volta Zero sits in a central driving position with a much lower seat height than a conventional truck. This combination, along with the glasshouse-style cabin design, provides the driver with a wide 220-degree field of visibility, minimising dangerous blind spots. The prototype Volta Zero was launched in September 2020, and the first vehicles are expected to be operating with customers in mid-2022.
Volta Trucks eldrivna lastbil är redo för produktion
Så här kommer den att se ut
För två år sedan visade företaget Volta Trucks upp den helt eldrivna lastbilen Zero. Nu är den redo för produktion och vi får därför bilder på hur den kommer att se ut, och det är inte mycket som skiljer sig från konceptet. Trots detta ska alla karossdelar vara annorlunda och uppdaterade. Den största förändringen utseendemässigt är att ljuslisten i fronten har fått säga hej då och att hytten fått en lite mer traditionell form. Enligt Volta är det här den första eldrivna 16-tonnaren byggd för ändamålet - att leverera varor i innerstan. De första 25 stycken prototyperna ska börja tillverkas nu och börja testas i början av nästa år. Först i slutet av nästa år kommer man att börja tillverka kundbilar. Tillverkningen kommer att ske i Österrike av Steyr Automotive.
43.2°
0
Volta Trucks får in 37 miljoner euro till
Har nu över 2500 stycken förhandsbeställningar
Volta Trucks har precis avslutat ytterligare en investeringsrunda och där fick man in 37 miljoner euro. Den största delen stod amerikanska Luxor Capital och företagets första externa investerare, Byggmästare Anders J Ahlström, valde att öka sitt innehav. Volta ska ha fått in över 2500 stycken förhandsbeställningar (ordervärde på över 600 miljoner euro) på den helt eldrivna lastbilen Zero som är planerad att börja testas och utvärderas av kunder i mitten på nästa år. Fullskalig produktion väntas dra igång i slutet av 2022.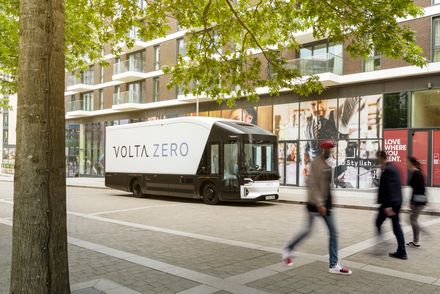 43.1°
0
Volta visar eldrivet lastbilskoncept
Ska vara extra snäll mot fotgängare och cyklister
Volta Trucks har tillsammans med Prodrive kokat ihop det här lastbilskonceptet. Bilen har designats för att vara extra snäll mot fotgängare och cyklister. Men den har inte försetts med mjuka karosspaneler eller liknande utan istället har man satt föraren lågt, i mitten och framför framaxeln så att den som kör ska kunna se och upptäcka folk så bra det går. Döda vinkeln ska minimeras tack vare de stora glasytorna och de konventionella backspeglarna har ersatts av kameror som ser mer. Dörrarna är även som på en buss sådana att de glider ut bara lite och sen bakåt för att minimera risken att knocka någon i exempelvis cykelfilen när man har stannat. För tillfället finns det endast renderingar på konceptet men en fullt fungerande prototyp ska stå färdig nästa sommar. Målet är en räckvidd på 16 mil och en toppfart på 80 km/h.
39.6°
0
50.8°
0

Bobby Green
tis. 30 nov 2021, 17:00