Volta Trucks eldrivna lastbil är redo för produktion
Så här kommer den att se ut
För två år sedan visade företaget Volta Trucks upp den helt eldrivna lastbilen Zero. Nu är den redo för produktion och vi får därför bilder på hur den kommer att se ut, och det är inte mycket som skiljer sig från konceptet. Trots detta ska alla karossdelar vara annorlunda och uppdaterade. Den största förändringen utseendemässigt är att ljuslisten i fronten har fått säga hej då och att hytten fått en lite mer traditionell form. Enligt Volta är det här den första eldrivna 16-tonnaren byggd för ändamålet - att leverera varor i innerstan.
De första 25 stycken prototyperna ska börja tillverkas nu och börja testas i början av nästa år. Först i slutet av nästa år kommer man att börja tillverka kundbilar. Tillverkningen kommer att ske i Österrike av Steyr Automotive.
Fordon, Lastbilar,
Volta Trucks, Volta Zero, design, lastbil, eldrift, elbil, officiell, transport, transportfordon
Ingen video laddad. Detta kan bero på adblocker.
Försök igen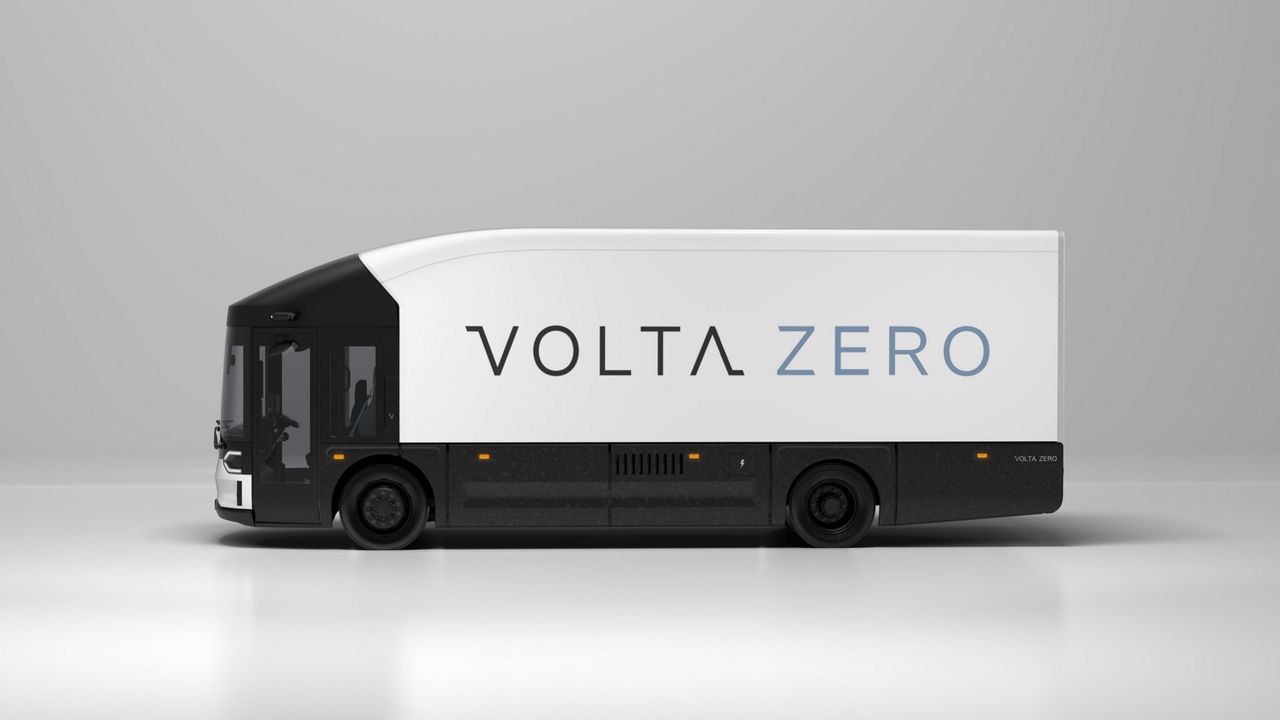 Visa Pressmeddelande
Volta Trucks reveals the final production-ready design of the full-electric Volta Zero

Volta Trucks, a leading and disruptive full-electric commercial vehicle manufacturer and services provider, has revealed the final production-ready design of the Volta Zero – the world's first purpose-built full-electric 16 tonne commercial vehicle, specifically created for inner-city logistics.

The unveiling of the Volta Zero's final design, created by partner, Astheimer Design in Warwick, UK, bears a close visual relationship to the original demonstrator vehicle, with its modern and innovative appearance and packaging. The final design also confirms that the revolutionary cab and premium working environment for drivers, with its low, central seating position to improve visibility and safety, will been maintained through to production. These same design principles will also be maintained into the forthcoming 7.5t, 12t and 18t variants – the latter now being repositioned from its previous 19t gross weight.

Whilst bearing a close relationship to the original demonstrator vehicle, all body panels have been redesigned and updated for the final design. The most notable, but still minor, visual changes include the removal of the horizontal frontal light bar, and the replacement of the diagonal interface between the cab and the cargo box with a vertical line, to improve vehicle construction efficiency. Internally, only the colour and material palette have changed, with the blond leather of the demonstrator being replaced with a more practical charcoal colour, and the teak wooden flooring superseded by a more hard-wearing rubber matting.

Production of the first 25 Design Verification prototype vehicles is due to start shortly. These prototypes will embark on a comprehensive and rigorous testing regime, starting in early 2022. This will initially be undertaken by Volta Trucks engineers, and followed by customers, to ensure that the first production-specification vehicles, due to start manufacturing by the end of next year, deliver the highest possible quality levels.

Ian Collins, Chief Product Officer of Volta Trucks, said; "When the Volta Zero was revealed in September 2020, there were some who thought that its revolutionary, world-first design and packaging was just for show, and could never be built for production. We knew it wouldn't be easy, but our constant motivation was the opportunity that a completely reimagined truck had to improve both the safety of drivers, and those vulnerable road users around large trucks operating in city centres. Working in close collaboration with Astheimer's design team and our engineers, we have delivered a modern, progressive, and elegant design – exactly as an electric vehicle conceived from the ground up should be. The production ready Volta Zero delivers a paradigm shift in commercial vehicle safety and sustainability, and I look forward to seeing the vehicles on the road early next year as our rigorous testing programme starts."

About the Volta Zero.
The Volta Zero is the world's first purpose-built full-electric 16-tonne vehicle designed for inner-city logistics, reducing the environmental impact of freight deliveries in city centres. Designed from the ground up with an operating pure-electric range of 150 - 200 kms (95 – 125 miles), the Volta Zero will eliminate an estimated 1.2M tonnes of CO2 by 2025.

Safety is also at the heart of Volta Trucks, with its ambition of producing the safest trucks for our cities. The Volta Zero was designed for electric from the outset, which facilitates a step-change in vehicle, driver and pedestrian safety. Thanks to the removal of the internal combustion engine, the operator of a Volta Zero sits in a central driving position, with a much lower seat height than a conventional truck. This combination, plus a glass house-style cab design, gives the driver a wide 220-degrees of visibility, minimising dangerous blind spots. The prototype Volta Zero was launched in September 2020, with the first vehicles expected to be operating with customers in mid-2022.

About Volta Trucks.
Volta Trucks is a scale-up full-electric commercial vehicle manufacturer and services company. Volta Trucks' Head Office is in Stockholm, Sweden, with its engineering led from the UK, and forthcoming manufacturing facility in Steyr, Austria. The company also has sales teams across France, Spain, Italy, Germany, and the UK. Volta Trucks is partnering with a number of global leaders in the supply chain for the development and production of the Volta Zero.
Volta Trucks får in 37 miljoner euro till
Har nu över 2500 stycken förhandsbeställningar
Volta Trucks har precis avslutat ytterligare en investeringsrunda och där fick man in 37 miljoner euro. Den största delen stod amerikanska Luxor Capital och företagets första externa investerare, Byggmästare Anders J Ahlström, valde att öka sitt innehav. Volta ska ha fått in över 2500 stycken förhandsbeställningar (ordervärde på över 600 miljoner euro) på den helt eldrivna lastbilen Zero som är planerad att börja testas och utvärderas av kunder i mitten på nästa år. Fullskalig produktion väntas dra igång i slutet av 2022.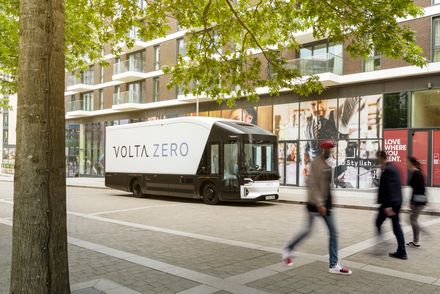 43.1°
0
Volta Trucks presenterar eldrivna lastbilen Zero
Ska sköta leveranser i city
Idag har den eldrivna lastbilen Zero från den svenska startupen Volta Trucks premiär. 16-tonnaren är byggd från grunden som en elbil och är tänkt som ett miljövänligare alternativ för transporter och paket-leveranser i city. Företaget är grundat i Sverige och baserat i Stockholm, bilarna byggs dock i England. Räckvidden för Zero ligger på mellan 15 och 20 mil beroende på batteripack (160-200 kWh). Toppfarten är 90 km/h. Målet är att bli den säkraste tillverkaren av stora kommersiella fordon. Föraren sitter i mitten och lägre än i vanliga lastbilar. I kombination med de stora glasytorna ska detta göra att man ännu bättre kan upptäcka exempelvis gångtrafikanter. De första kommersiella exemplaren av Volta Zero kommer att rulla i Stockholm, London och Paris. Postnord och Bring blir först i Sverige att använda lastbilarna. En prototyp är under tillverkning just nu och den kommer ut på vägarna senare i år. Pilot-tester med kunder ska dra igång i början av nästa år.
47.6°
0
Volta visar eldrivet lastbilskoncept
Ska vara extra snäll mot fotgängare och cyklister
Volta Trucks har tillsammans med Prodrive kokat ihop det här lastbilskonceptet. Bilen har designats för att vara extra snäll mot fotgängare och cyklister. Men den har inte försetts med mjuka karosspaneler eller liknande utan istället har man satt föraren lågt, i mitten och framför framaxeln så att den som kör ska kunna se och upptäcka folk så bra det går. Döda vinkeln ska minimeras tack vare de stora glasytorna och de konventionella backspeglarna har ersatts av kameror som ser mer. Dörrarna är även som på en buss sådana att de glider ut bara lite och sen bakåt för att minimera risken att knocka någon i exempelvis cykelfilen när man har stannat. För tillfället finns det endast renderingar på konceptet men en fullt fungerande prototyp ska stå färdig nästa sommar. Målet är en räckvidd på 16 mil och en toppfart på 80 km/h.
39.6°
0
43.2°
0

Bobby Green
tors. 4 nov 2021, 13:15